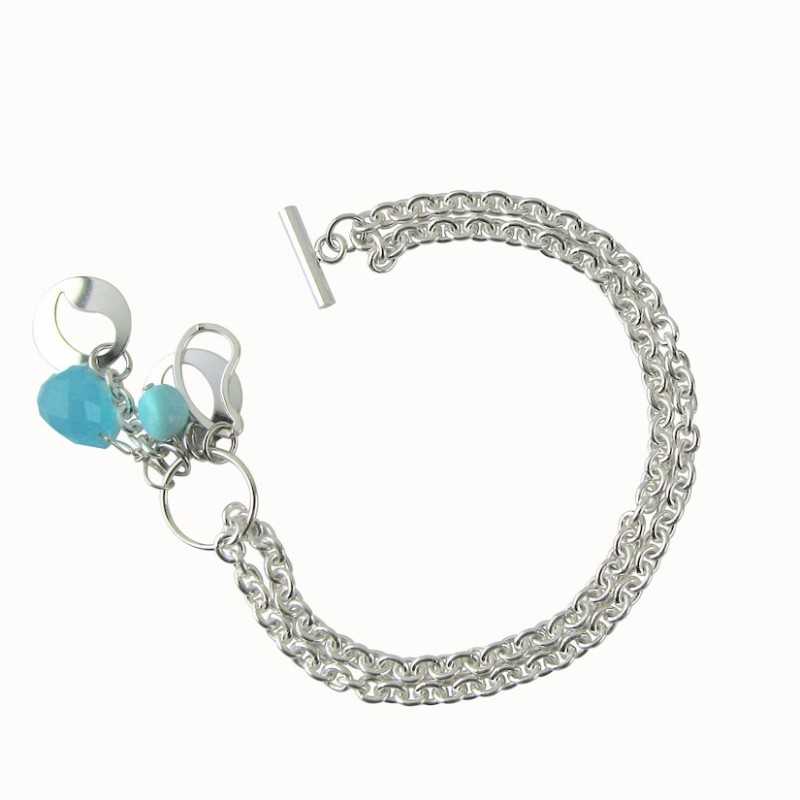  
Women's double-silver chain double-chain turquoise bracelet
Massive silver 925
turquoise
Faceted turquoise fluorite
Length of double chain: 16 - 18 cm
Length of pendant: 20 mm
Free shipping - Ships within 24-48 hours
General conditions of Sales
Delivery policy
Returns policy
Find originality in Art'emi jewelry
Discover originality with the double chain silver bracelet. You can let your personality look with this sumptuous jewel. It is a bracelet consisting of a double silver chain as well as small pendants in turquoise mother-of-pearl and other pendants in the shape of a silver drop.
You have the perfect jewel to shine, but also to offer!
A double chain bracelet fills with freshness
The turquoise color of this bracelet is intoxicating isn't it? Looking for a gift for your best friend? Art'emi offers this turquoise double chain bracelet. This jewel will fill your friend with happiness with its originality and freshness. It blends with all styles and dresses your wrist in splendor.
For more sweetness, check out our blog about the desire to travel with the turquoise bracelet. Maybe it'll make you want a holiday!
Finally, for a complete look, also find the silver drop earrings as well as the bulging wide ring. Is it an irresistible look, want to try it?
Massive money 925 or otherwise called sterling money
Through this bracelet, you will find several exceptional materials. First of all, silver 925, it is an alloy of pure silver and copper, which gives the jewel great strength and solidity. In addition, the bracelet is also made from mother-of-pearl. You should know that mother-of-pearl is a natural organic phenomenon (which you can find in the oyster). The mother-of-pearl is very appreciated by its iridescent sides.
It is important to note that Art'emi jewellery offers free services. Indeed, the personalization and delivery of your jewelry are free. Enjoy!
Finally, the Art'emi team is available for any additional information regarding a particular piece of jewellery or application. We'll be happy to help.
Specific references
UPC

540619238543

EAN-13

5484434391845