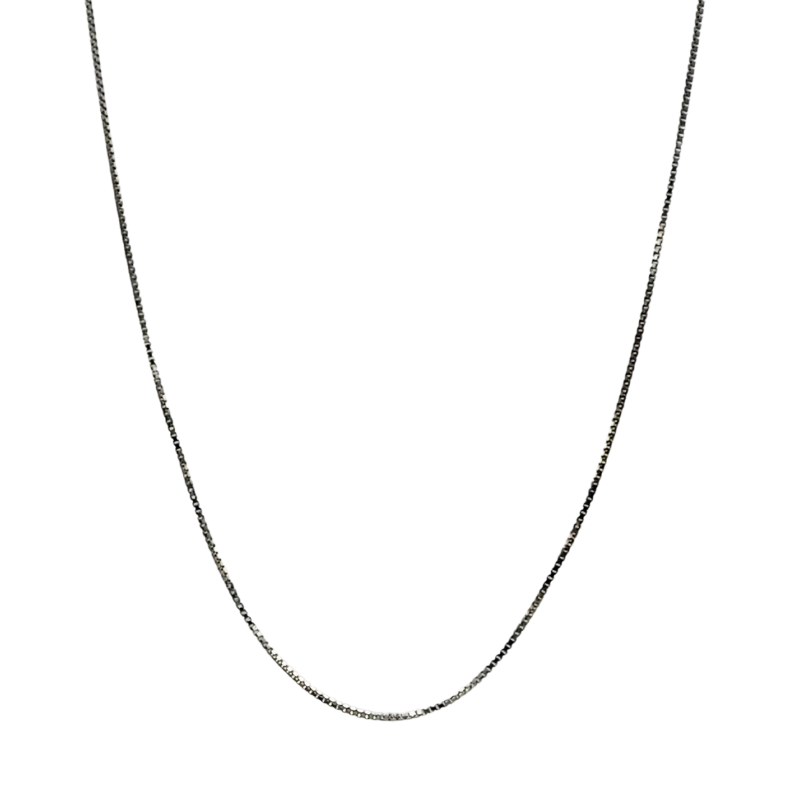  
Venetian silver chain woman
Solid Silver 925
Weight: 4.31gr
Length: 45 cm
Free shipping - Shipped within 24h-48h
General conditions of Sales
Delivery policy
Returns policy
The Venetian mesh chain
First of all, the Venetian mesh chain woman is a rather thin and solid chain. These are small and large silver cubic links nested in each other which gives it this resistance. This women's jewel is composed of a silver carabiner class as well. The delicacy of this silver jewel will blend beautifully with your outfits and reflect your personality. Indeed, you can wear this Venetian mesh chain everywhere! Its chic and discreet side will allow you to have the jewel that will make the difference. Adopt a silver women's chain for your daily life and even for all occasions. This is a trendy and timeless accessory to have in your jewelry box. You will also find the gourmet chain, the diamond convict chain as well as the ball mesh chain in our women's chains tab. The women's chains are made of silver and with a minimalist and chic style.
In addition, it is an exceptional jewel available for men and children. Silver jewelry for the whole family.
A large collection of women's jewelry is online on our website. Gold or vermeil jewelry will make you crack as well as the pretty pink and black quartz rings, wonders to wear every day. For more advice on women's jewelry or jewelry for men and children, jewelry is here to help you in your approach.
Notes of the day: the trend is to mix gold jewelry and silver jewelry so opt for a gold necklace and a pair of silver earrings. Mismatch your gold and silver adornments!
Silver, a quality metal
In addition to the assembly of cubic links, making it possible to make thin and solid chains, solid silver 925 (also known as sterling silver) is also a high-quality metal. Indeed, solid silver 925 is composed of 92.5% pure silver and 7.5% copper. In addition, the lightness and flexibility of sterling silver are highly appreciated. This alloy is of great strength and allows your women's necklace to withstand in time and be timeless. You can transmit from generation to generation your jewel woman chain Venetian mesh silver. In addition, shiny silver jewelry, very elegant, will make the effect around you.
The Art'emi jewelry store is committed to designing jewelry in silver, vermeil (18-carat gold plated), gold, mother-of-pearl, turquoise, precious stones, pearls, coral and quartz from exceptional and quality materials. Jewelry uses practically only precious metals. As a result, the punch 925 is present on all silver jewelry of the jewelry store Art'emi as a guarantee of quality.
In order to take care of your silver chain, come and find out how to clean your silver jewelry on our blog.
Why opt for the Venetian mesh chain of Art'emi jewelry?
And why not? The Art'emi jewelry store does not only offer you exceptional silver jewelry made with ancestral know-how and materials of spectacular quality, Art'emi allows you to have the women's jewelry of your dreams without any delivery costs. Isn't it beautiful? Therefore, do not wait any longer before ordering your Venetian mesh chain in silver for women! In addition, the Art'emi jewelry store also offers a second service: the personalization of jewelry for free. Do not delay and come and discover our selection of customizable jewelry women, men and children by clicking here.
Jewelry customization allows you to add a silver pendant to your silver chain for more fantasy and originality. You can add an engraved medal for a unique look that looks like you. Be original with a medallion to your liking and an engraving made by you. And offer an ideal gift thanks to the customization of jewelry. Create your costume jewelry, with a bohemian, ethnic or chic spirit, for all occasions. You can also add your unique and personal charm to this stunning women's silver chain.
And to please the whole family, find the collection of customizable jewelry men and children.
Art'emi offers the rush bracelet available for women, men and children. The tree of life necklace is also available for the whole family as is the medal bracelet to engrave, perfect on your wrists. You have the choice to customize and make your jewelry unique and personal. A perfect gift idea!
Specific references
UPC

548044138889

EAN-13

5439525000106