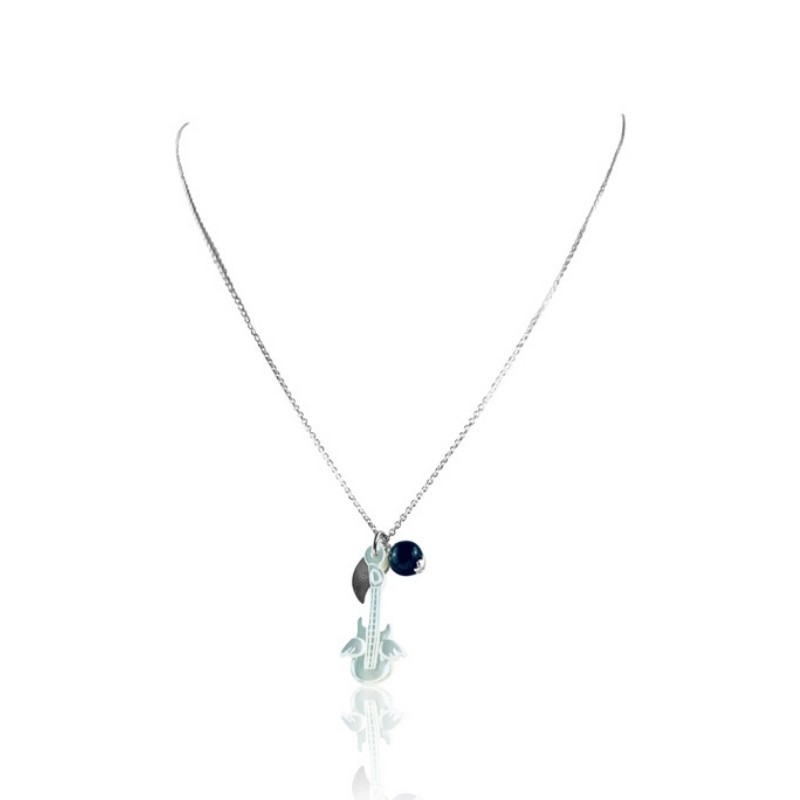  
Pearl pearl guitar necklace black woman
Solid silver 925
White mother-of-pearl guitar
Pearl in fine stone black agate
Chain length: 45 cm
Guitar pendant length: 2.5 cm
Pearl diameter: 5mm
Weight: 2.50 g
Free Shipping - Ships within 24-48 hours
General conditions of Sales
Delivery policy
Returns policy
The black mother-of-pearl guitar necklace: passion within reach of the neck
Always passionate about music? Do you want a woman's jewel that looks like you? Artémi finally responds to this desire with his superb black pearl pearl guitar necklace. Indeed, this magnificent necklace for women will appeal to all music enthusiasts. Its white mother-of-pearl guitar shape will transform your sober outfits into one full of personality. In addition, this silver necklace has for quality an unparalleled elegance, allowed by the mother-of-pearl. So, do not hesitate any longer and treat yourself to the women's necklace of your dreams. To discover our other necklaces close to the neck woman click right here,you will find your happiness for sure. In addition, your jewelry box will thank you for the wonders you will add to it, between costume jewelry and customizable jewelry, art'emi has enough to put you in full eyes.
Do not hesitate to consult our blog to know how to take good care of your jewelry.
Jewelry is a reflection of ourselves, so why not make it the ideal gift? Don't have a gift idea for your friend? The perfect gift would be a unique and original jewel that looks like it on which you add your imprint, through an engraving for example!
Art'emi, flawless quality
The Belgian jewelry store art'emi offers quality jewelry made from exceptional materials. Here, the fine mesh chain of the necklace is made of solid silver. This type of silver is composed of 92.5% silver and 7.5% copper. It is this alloy of silver and copper that gives the material the robustness necessary to make this necklace. As a result, all of our silver jewelry has the hallmark "925" as a sign of quality.
Nevertheless, the pearl is made of black agate and the guitar pendant of white mother-of-pearl. Both semi-precious stones. In English, we call the mother-of-pearl from the name given to it by the first Queen Elizabeth: mother of pearl. Because of this, you have a women's necklace with a sterling silver chain, a silver carabiner clasr, charms with a white mother-of-pearl pendant and a thin pearl in black agate.
Want to learn more about mother-of-pearl? Come and consult our subject guide.
Gemstones are widely used by art'emi. Because of this, you will find original jewelry for women in turquoise, coral, tourmaline, quartz. Semi-precious stones for all tastes and colors. Finally, the semi-precious stones are arranged on a silver or vermeil jewel.
These two precious metals are unique. You know money, but vermeil doesn't tell you anything? It is a jewel in solid silver and then 18-carat gold plated. For unparalleled solidity.
What is advantageous with these precious metals is that you can all wear with them! Whether it's your engagement ring, diamond earrings, rhinestones on your necklace or yellow gold on your bracelet. Everything goes hand in hand, especially since the mix of gold and silver jewelry is very trendy.
The mother-of-pearl guitar necklace, a jewel of style
For a bohemian and ethnic look, full of personality, this is the dream jewel. In addition, you can have all Artemi creations delivered to you for free. Finally, the whole team remains at your disposal to answer all your questions. So do not hesitate and fly to daydreaming with this charming necklace for women!
You with a collection of timeless women's jewelry that you will keep endlessly with you.
You want to please the whole family and you have not yet found your happiness? Come and discover all our jewelry for men and children. For a silver jewel, gilded, in rose gold, set with precious stones, in sautoir, in flush with neck or an adornment, jewelry at what you need.
Look of the day: a silver rush bracelet, with a gold necklace and a silver chain to offset the whole. In addition, a silver gourmette and a cotton cord bracelet. A set of bracelets is essential and essential. If you are not a fan of silver chains, opt for a charm pendant collar.