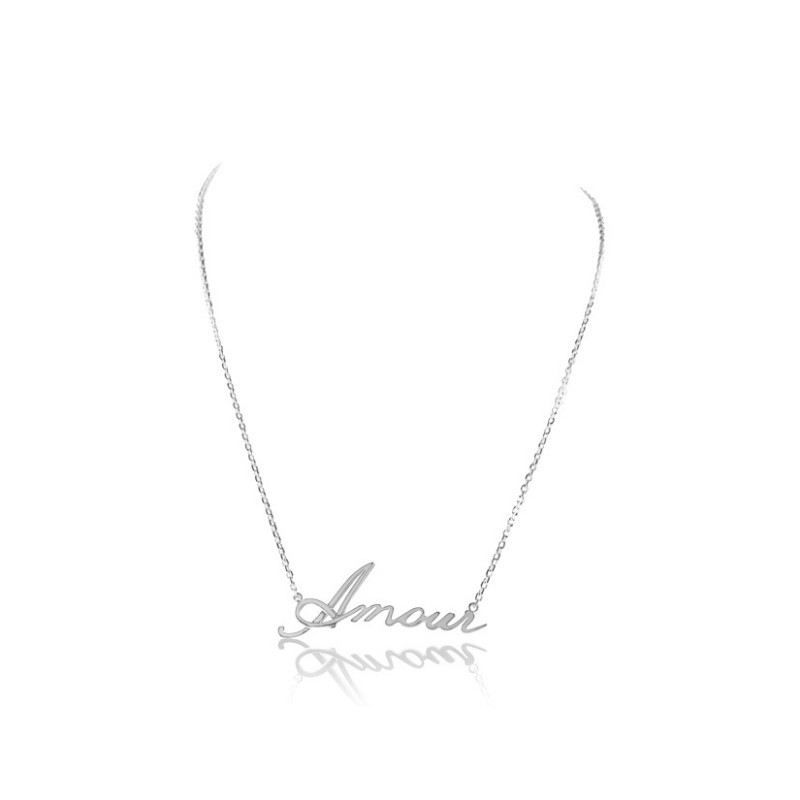  
Necklace love silver woman
Solid silver 925
Length of the word Love:
Length: 42 - 45 cm
Weight: 3.92 g
Free Shipping - Ships within 24-48 hours
General conditions of Sales
Delivery policy
Returns policy
Necklace love silver woman
The silver love necklace, that it bears its name well! This sublime solid silver necklace is the perfect illustration of the romantic jewel. Indeed, the word love is inscribed with a typography of the most elegant. So, give this beautiful fancy necklace to a loved one, whether it's family love, passion or friendship. Offer this necklace of exceptional quality and fill with happiness the person to whom you offer it. So do not hesitate any longer and quickly order this necklace woman filled with love.
Finally, are you looking for a gift idea for a wedding? Come and discover our blog on this subject.
A unique and timeless jewel that your jewelry box loves! Dare this elegant and fine jewel that can be worn with all other types of metals, whether white gold, yellow gold, rose gold or your diamond adornment.
Art'emi and manufacture of silver jewelry
The Art'emi jewelry store offers quality jewelry made from exceptional materials. Here, the necklace is made from 925 silver (also called solid silver, fine silver or sterling silver). This kind of silver contains at least 92.5% silver, as well as 7.5% copper. Indeed, pure silver is a fairly malleable metal. It is this alloy of silver and copper that gives the necessary robustness to make this jewel for women. The "925" hallmark is present on all our silver jewelry as a guarantee of quality. Because of this, you have a total silver jewel with the love pendant, the mesh chain and the carabiner clasp in sterling silver.
Discover also our gold jewelry. This is the vermeil, it consists of a silver jewel then plated gold 18 carats. Therefore, find the gold necklace or our vermeil rush bracelet.
And for more costume jewelry for women, precious stones are very present at art'emi. Then make way for jewelry set with semi-precious stones with tourmaline, mother-of-pearl, turquoise, coral, agate or quartz.
The silver love necklace, a gift full of feelings
The silver love necklace can be worn on a daily basis. It will have a special place in your partner's heart. We would like to remind you that all art'emi creations can be delivered throughout Europe. The brand also provides you with an engraving service that does not require any additional costs. So now is the time or never to declare your flame by offering this superb silver necklace. Finally, the whole happy family remains at your disposal to answer all your questions.
Still in the theme of love, you may also want a personalized heart necklace or a heart keychain to engrave. Do you want to please your whole family? Come and discover our jewelry for men and children.
Note of the day: the trend is towards gold and silver jewelry. So mix your bracelets and adopt the silver and gold look. If you want to add a little more color, fine pearls are ideal on silver and gold bracelets! It's up to you.