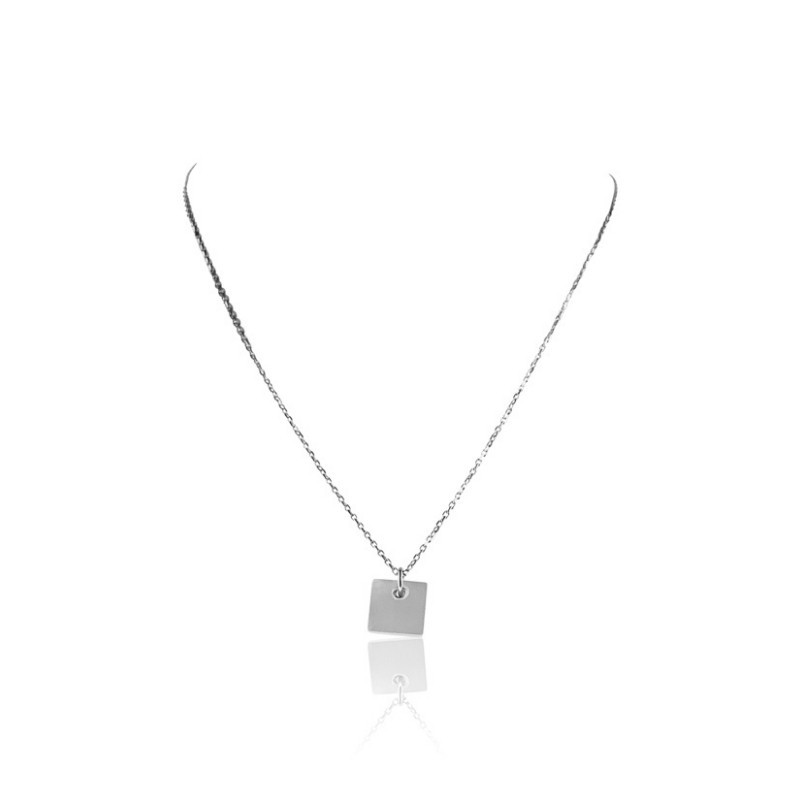  
White women's mother-of-pearl necklace
Solid silver 925
White mother-of-pearl square
Chain length: 42 cm
Square pendant length: 1 cm x 1 cm
Weight: 2.25 g
Free Shipping - Ships within 24-48 hours
General conditions of Sales
Delivery policy
Returns policy
Discreet and refined: the white mother-of-pearl necklace
Are you looking for a fine and delicate jewel for women that can emphasize your neck without being too ostentatious? Choose the white mother-of-pearl collar for women. Through this jewel, you can see the delicacy and purity of semi-precious stone: white mother-of-pearl. In addition, this women's jewel is assembled with a silver mesh chain as well as a small drop pendant and a mother-of-pearl charm. Your jewelry box will be happy to have moose and costume jewelry with it! This necklace is ideal for your daily life.
Did you enjoy the little gout pendant? Discover the silver drop pendulum necklace for women as well as the drop target bracelet for men.
For a silver look, this women's necklace is ideal. So do not hesitate to match it with other costume jewelry, such as a sumptuous women's ring to engrave or a bracelet accompanied by thin beads. In addition, silver and mother-of-pearl are materials and stones that you can wear with all types of jewelry. Whether it's your white gold, yellow gold or rose gold jewelry, you're sure to shine! And to be even more vibrant, dare to wear your diamond adornment, your engagement ring or your rhinestone bracelet with this necklace.
A unique jewel of quality
The Art'emi jewelry store offers you quality jewelry while respecting the company's values: timelessness, authenticity and ethics. Because of this, the women's jewelry created is made for you with ancestral know-how and made from materials from Europe. You can rest assured, the white mother-of-pearl necklace is a quality jewel that you will keep for a very long time, even to infinity.
In addition, mother-of-pearl is a semi-precious stone that is found on some molluscs such as oysters for example. Indeed, it is its iridescent color that has conquered the world of jewelry. Because of this, it is a popular stone in the elaboration of jewelry.
Want to know more about mother-of-pearl? Read our blog page about it by clicking here.
Want other gemstones? Succumb to jewelry in quartz, agate, tourmaline, coral, turquoise or cat's eye.
A jewel that will fill you with happiness, the necklace set with coral beads. A wonder to offer! For more perfect gift ideas, look at our customizable women's jewelry. Thanks to the engraving, you have a unique jewel to offer.
The jeweler Artémi
Artémi offers you incredible services. In addition, most of its services are free of charge. Yes, you heard right! First of all, the jewelry store delivers your jewelry to you for free anywhere in the world. In addition, some artemi jewelry is customizable to your liking, and this, for free.
If you want to know more aboutArt'emi offers as well as jewelry, do not hesitate to click on who are we?
Finally, the Art'emi team is at your disposal for any special requests, help for engraving or other. We will be happy to help you.
Artemi tip: if you want a resistant but golden jewel, opt for vermeil, it is sterling silver jewelry and then 18-carat gold plated. Because of this, you have a resistant jewel thanks to silver and gilded thanks to gold. Find the vermeil in a gold necklace, our hanging or Creole earrings, or with a rush bracelet!
Specific references
UPC

544423471356

EAN-13

5437937637835