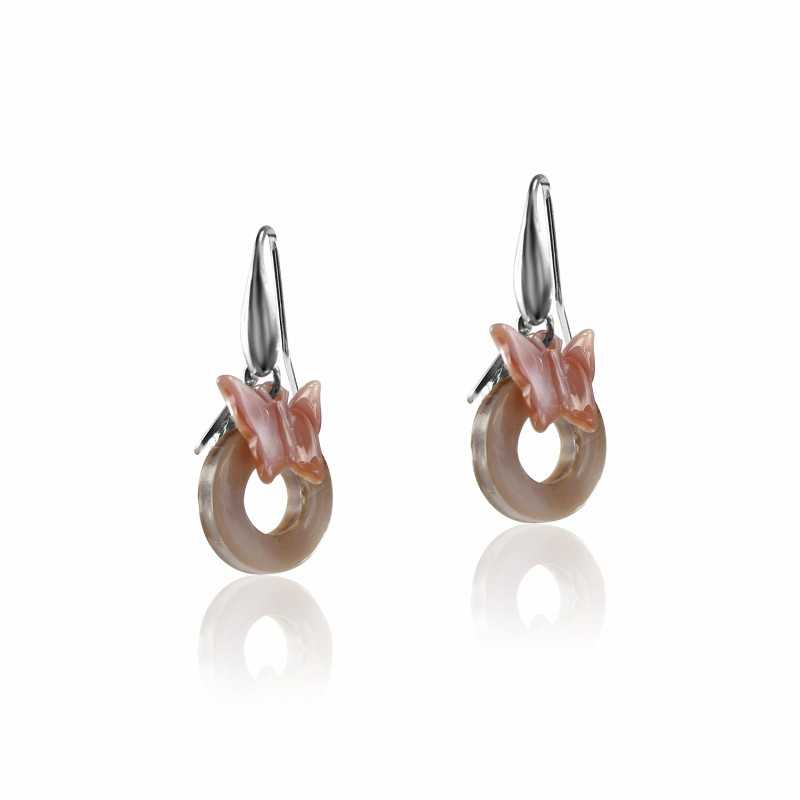  
Mother of pearl butterfly earrings
Solid silver 925
Gray donut and pink butterfly in mother-of-pearl
Earring length: 250 mm
Free shipping - Ships within 24-48 hours
General conditions of Sales
Delivery policy
Returns policy
Mother of pearl butterfly earrings : the universe come to guide you
You need a gift idea to offer the perfect present to one of your loved ones? Or are you looking for a new piece of women's jewelry to add to your jewelry box? The jewellery brand Art'emi has the trendy women's jewellery you need. It is the pair of butterfly earrings mother-of-pearl, which is a timeless piece of jewellery that can be worn on all occasions. This pair of sterling silver earrings for women will accompany all the outfits in your wardrobe. It is composed of a pink mother of pearl butterfly, a grey mother of pearl donut and a sterling silver pearl. The whole mounted on a sterling silver hook earrings gives a jewel of pure elegance. The three small ornaments of this mother-of-pearl earrings give them a glamorous, elegant look while remaining subtle and discreet.
This lovely piece of jewellery for women will be perfect as a birthday gift, a Christmas gift, for Valentine's Day, and even for Mother's Day. This composition of semi-precious stones and sterling silver brings finesse and femininity to your looks. These earrings are perfect to bring a touch of glamour to sublimate your most beautiful outfits.
Art'emi, synonymous with quality
The jewelry brand art'emi highlights its quality gold and silver jewelry made from exceptional materials. Here, the earrings and pearls are made fromsolid silver (also called 925 silver or sterling silver). This type of silver contains 92.5% silver and 7.5% copper. It is this alloy of silver/copper that gives the material the necessary solidity for the confection of beautiful jewelry. All our silver jewellery for men and women carry the "925" hallmark as a sign of quality.
However, the grey donuts and pink butterflies pendants are made of mother-of-pearl. Mother of pearl is a biocomposite, synthesized by mollusks throughout their existence by lining the inside of their shells. The jewellery brand invites you to let yourself be seduced by its collection of women's jewellery, its collection of men's jewellery and children's jewellery. Art'emi also offers the possibility of customising its jewellery. You will be able to engrave your most beautiful jewels from Art'emi to make unique and original personalized jewels. Art'emi proposes you to engrave names, dates or your initials on your bracelets, chains, etc.
A pair of mother-of-pearl butterfly earrings that will transform you
For a bohemian, romantic and light look, this is the ideal pair. The mother-of-pearl butterfly earrings in solid silver will be your best ally this summer. Our jewellery brand also offers a wide variety of gold and silver jewellery. You will find bracelets, long necklaces, chain necklaces, gold bracelets, gold rings, tree of life necklaces, choker necklaces, gold chains, cufflinks, leather bracelets, engraved medals, gold creoles, etc. The quality being an important criterion for our man-woman jewelry, we use precious metals for our jewelry. You will find turquoise, fine stones, tourmaline, mother-of-pearl, semi-precious stones, rose quartz , coral, pearls, vermeil, rose gold,agate, yellow gold, solid silver, leather, etc.
Moreover, we remind you that you can have all our creations delivered free of charge. Finally, the team Art'emi remains at your entire disposal to answer your questions about your order and others.
To consume without moderation with the silver earrings multipapillon. We also have the necklace multipapillon which you will like for sure. We also have the tree of life necklace that you can use as a good luck charm. This one also has a small medal that you can engrave endlessly by putting your first name, a date or your initials. You will have a symbolic and unique jewel thanks to the personalization.