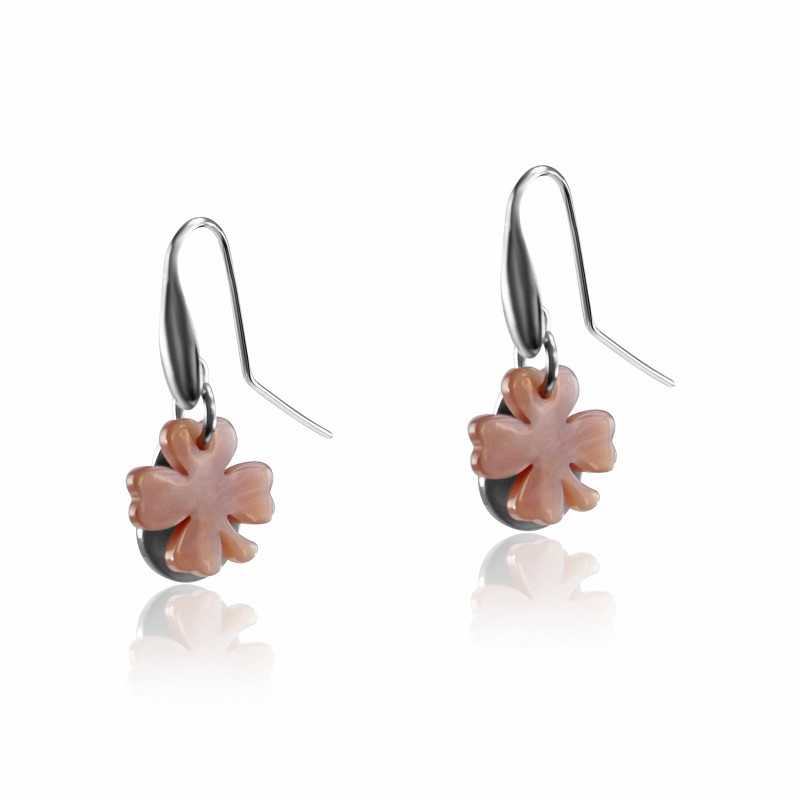  
Mother of pearl clover earrings
Massive silver 925
Grey pastille and pink clover in mother-of-pearl
Earring length: 20 mm
Free shipping - Ships within 24-48 hours
General conditions of Sales
Delivery policy
Returns policy
Mother-of-pearl clover earrings : a country pair
The pair of mother-of-pearl clover earrings is both delicate and rustic. The pink mother-of-pearl clover pendant adds a touch of femininity and purity to this ornament. They will be particularly suitable for sensual, discreet and natural women for a bohemian and romantic look.
Art'emi and its unique know-how
The art'emi Brussels jewelry store offers you quality jewelry made from exceptional materials. Here, the grey pastilles of the earrings are made from 925 silver (also called solid silver or sterling silver). This type of silver is composed of 92.5% silver, as well as 7.5% copper. It is this combination of silver and copper that gives the material the strength needed for jewelry making. All our silver jewelry is equipped with a "925" stamp which commits our quality.
The pink clover pendants that sublimate this pair of earrings are made of mother-of-pearl. Mother-of-pearl is a biocomposite, synthesized by molluscs throughout their lives by lining the inside of their shells. The thin layers of aragonite are at the origin of the iridescence effect, whose luster is pearly. The word "mother-of-pearl" comes from the Arabic "naqqarah". In English, it is called after the name given to it by the first Queen Elizabeth: mother of pearl.
A pair of earrings that will bring you luck
Thanks to this feminine pair, you can accessorize all your outfits. If finding a 4-leaf clover is not easy in the middle of nature, no one doubts that you will find the personalized lucky jewel you want on our shop. In addition, you can have all our creations delivered free of charge anywhere in the world. When you purchase, you will automatically receive a certificate and a one-year warranty (if that's not nice). Finally, if you would like more information about our products, you can contact us online. The whole team will be happy to talk to you.
Don't forget to match your earrings with our beautiful silver necklace clover, this silver ring with clover charms or with the bracelet clover mother of pearl.