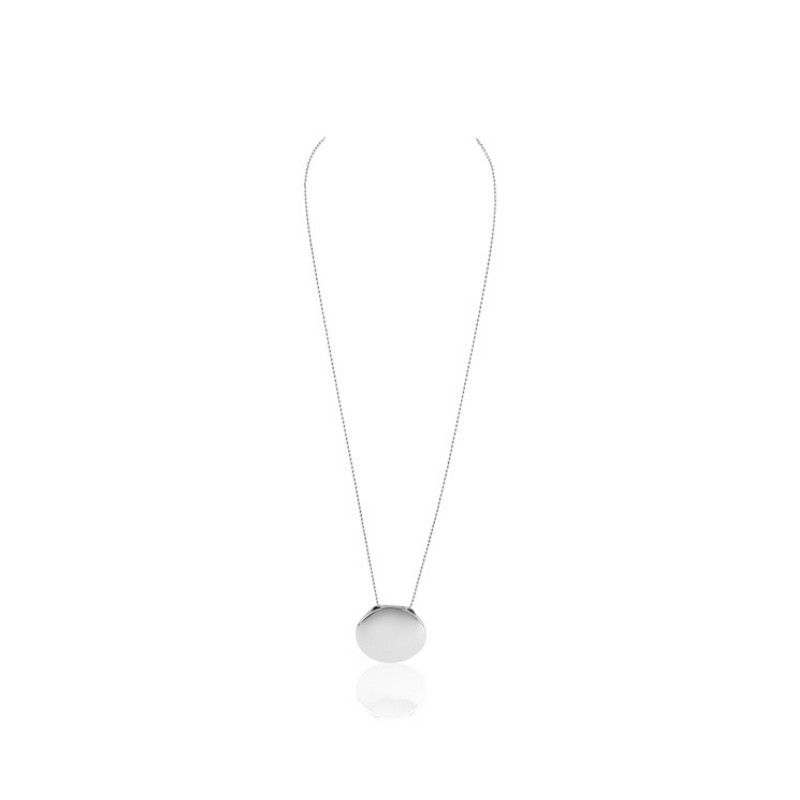  
Women's silver round jumping collar
Solid silver 925
Chain length: 68 cm
Round pendant diameter: 4.2 cm
Weight: 30.41 g
Free Shipping - Ships within 24-48 hours
General conditions of Sales
Delivery policy
Returns policy
A necklace that follows your desires
The round necklace is a women's jewel that you can wear as you wish. The advantage of necklaces is well found in the way of wearing them. Indeed, this beautiful round silver necklace can be worn along the back, for a feminine and glamorous side. Add your touch of fantasy with costume jewelry simply! So put on your low-cut dresses on the back with this jewel for women and capsize hearts.
Unlike the necklace, the necklace is a unique jewel that you can wear for all occasions. With a neckline or on a turtleneck, it appropriates your outfit without worries.
Indeed, this silver jewel can be worn with all your jewelry, whether you have Creole earrings in yellow gold, a white gold bracelet, a rose gold watch, a diamond set, your engagement ring, or your necklace flush with your rhinestone necklace. Everything is suitable with sterling silver.
Finally, for more silver chain necklaces, look at our women's necklaces section. Necklaces with charms and pendant necklaces are available!
The round necklace: a unique jewel
Want to be unique and look like no one else? Art'emi designs jewelry for women made for each of you. The round necklace is a sensual and singular jewel. In addition, this women's necklace is made of solid silver as well as the clasp of the jewel. It is a high-quality metal, used in most of the creations of the jeweler Artemis.
Solid silver or sterling silver is an alloy of pure silver for the most part, as well as copper. As a result, the jewelry is very strong and very resistant. Do not hesitate to take a look at our materials guide to learn more about the different materials that Artemis uses in the making of his jewelry. For example, discover the vermeil! It is a jewel made of 18-carat gold-plated silver. Find our diamond pendant gold necklace, a little wonder.
In addition, solid silver is a metal that blends perfectly with fine stones such as quartz, agate, mother-of-pearl, or turquoise. Semi-precious stones bring finesse to silver jewelry!
Discover the silver rose quartz ring for women. A marvel to wear on your finger.
Learn more about Art'emi jewelry
Want to know more? Discover the Art'emi jewelry store. A jewelry store that advocates exceptional materials, ancestral know-how, and an unforgettable customer experience. Timeless jewelry that you keep endlessly thanks to your favorite jeweler.
Art'emi offers you to deliver your jewelry, anywhere in the world, and for free. In addition, the engraving of jewelry is free! So take advantage of it and come and see our customizable women's jewelry!
Thanks to Art'emi, you are sure to find your silver, gold, classic, chic, rocky, ethnic, or bohemian look here!
Finally, we offer you a blog part on our site. Here you can find tips, advice, and gift ideas. For example, check out our blog page on the Passover party and custom jewelry.
Don't forget the men's and children's jewelry collection.
Note of the day: Dare the assortments of bracelets, with a silver bracelet, a rush bracelet, a pearl bracelet, a gourmet mesh bracelet, and a bracelet set with precious stones. Create your original jewelry set on your wrist.
Specific references
UPC

540137561130

EAN-13

5471317100212