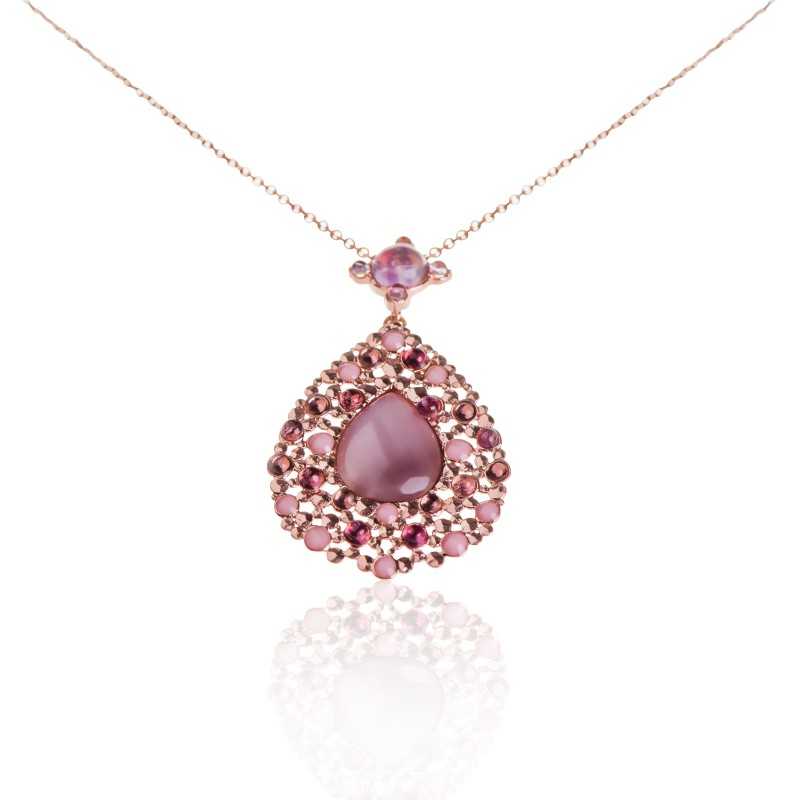  
Drop Stone Necklace woman
18-carat rose gold-plated necklace
Pink enamel
Precious Stones: Tourmaline, Cat's Eye
Chain length: min - 40cm / max - 43cm
Length of pendant: 5.5 cm
Length of pendant: 3 cm
Free shipping - Ships within 24 hours
Privacy - Security Policy
your personal data
Delivery policy
Everything you need to know about delivery
Return policy
Everything you need to know about the return
Necklace drop stone woman: an invitation to daring
This sublime 18-carat pink gold plated drop stone necklace for women is synonymous with "audacity". The pendant is made of semi-precious stones such as tourmaline or cat's eye. Ideal for special occasions. He will not leave your entourage indifferent, expect a shower of compliments! This jewel will honour the intrepid woman you are.
Art'emi and its unique materials
Made from exceptional materials, art'emi creations are of a rare quality.
It is for example in vermeil that the chain of this drop stone necklace for women was made. This is 925 silver that has been plated with gold with a minimum thickness of 3 microns. For the curious little ones, the process is called electrolysis. The gold used for plating is 18-carat gold, consisting of at least 75% pure gold. Moreover, vermeil does not give an allergy since it is silver covered with gold, two anallergic metals! Finally, another advantage of vermeil is that it has an extraordinary resistance.
The small semi-precious stones that cover the buckles are cat-eye tourmalines, from the Sinhalese word "turmali", which means "mixed". Tourmaline comes in more colours and combinations than any other gem variety. It is a wonderful and fascinating stone! It protects against harmful energies.
Finally, there is also enamel in this original creation. It allows to add to this jewel a solid and unalterable color in a shape or places that some precious stones could not fill. This also ensures that the design of the jewel is not overloaded.
The drop stone necklace for women, a jewel that looks great !
Perfect for determined, adventurous and determined women, the drop stone woman necklace is waiting for you! Its assemblage of semi-precious stones makes it unique and intriguing (a little like you). In addition, we remind you that you can have all our jewelry delivered free of charge, no matter where you are in the world. In addition, it is also possible to have anything you like engraved on our charming creations, at no extra cost. Let your imagination run wild. Finally, we also remain at your entire disposal to answer all your questions.
Consume without moderation with drop stone earrings for a complete result.