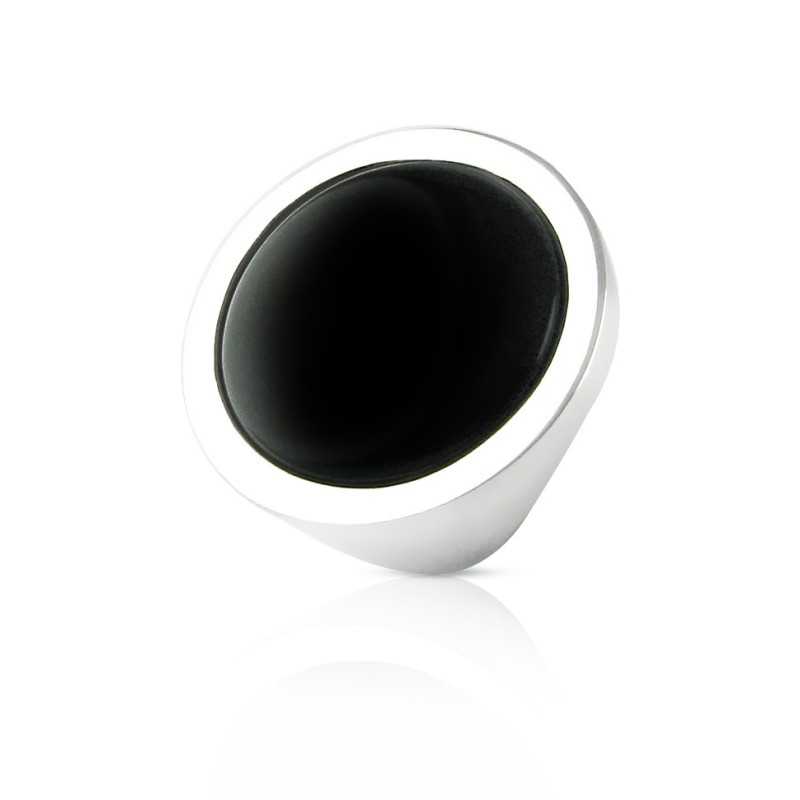  
Black agate ring silver woman
MORE IN STOCK
Solid Silver 925
Precious stone: black agate or rose quartz
Width of the ring at the top: 30 mm
Low ring width: 6 mm
Weight: 23g
Free shipping - Ships within 24-48 hours
General conditions of Sales
Delivery policy
Returns policy
Black agate ring silver woman: prestige at your fingertips
Have you ever dreamed of wearing a sumptuous silver jewel? The one that gives you in particular confidence and confidence? Want to adorn yourself in the most prestigious way possible? The brand Art'emi offers you the black agate ring silver woman! In other words, let yourself be captivated by this timeless silver jewel embellished with a volcanic stone. A wonder to discover without delay.
Indeed, excellent news: the ring that embodies perfection exists! Because the jeweler Artémi has designed a real gem just for you ladies. Symbol of style,glamour andelegance,the ring is, in fact, an essential jewel on the fingers of a woman or her wrist. She reveals, among other things, subtly her personality. She also flatters her beauty. Also imbued with precious feelings, the ring of value illuminates your daily life.
Sublimate your hands with the black silver women's agate ring!
Do you want to acquire a prestigious jewel? Fall for our sterling silver ring! Our adornment is indeed ideal in order tobeautify your clothing. It is also adequate both for a meeting at work and in the event of an evening, with a more preparedlook. Highlight your personality while magnifying your hand. No doubt: the power of its stone ideally emphasizes your femininity. Let your romantic side shine through. Our Art'emi rings reveal, indeed, your mischievous side.
In the event that you are looking for the ideal gift, Art'emi has the solution! Our gem is, obviously, perfect for an occasion to celebrate. It is a resplendent symbol of affection. Decide to send a gift that lives up to your feelings. A precious ring for extraordinary women. Opt for a wonderful gift. Choose our sumptuous Art'emi ring to sport an elegant and vibrant style. Once again, fun is at your fingertips with our jewelry. Let yourself be charmed now by its sensuality.
Treat yourself to quality with Art'emi rings
It is undeniable that the materials are delicately chosen by the designer: such as vermeil, gold plated, silver 925, 18 kt gold, rose gold, quartz, fine stones, semi-precious stones, precious stones, mother-of-pearl, turquoise, tourmaline. All the jewels therefore demonstrate an irreproachable quality. Take, for example, our ring: designed fromsolid silver with the punch 925,it is very resistant. It is also composed of black agate. This volcanic stone is opaque and solid. Let yourself already be intoxicated by this majestic jewel. Gold and silver, opt for a safe bet! In addition, our ancestral know-how allows you to engrave your women's jewelry according to your preferences with unique customizations to infinity.
Are you looking for a ring in line with your personality? Or are you looking for the chosen one of your heart the engagement ring of her dreams? Our jewelry meets your fantasy, here is an idea for a first step before THE ring! Thanks to Art'emi, you have found an original gift idea! Bring the black silver women's agate ring. It is ideal in all circumstances. Its intense brilliance accompanies you daily on all occasions.
Do you want to discover our range of jewelry for women? Therefore, consult our collection of jewelry: pendant, chain, bracelet, necklace, earrings, gourmette, sautoir, accessories. Feel free to also discover the black faceted agate drop silver necklace,or this pearl necklace rice grains. Our necklaces are varied: flush with neck, sautoir, gold, silver, pearls, bohemian. Also remember to consult our costume jewelry for men and children!
Specific references
UPC

549797801914

EAN-13

5441278046355