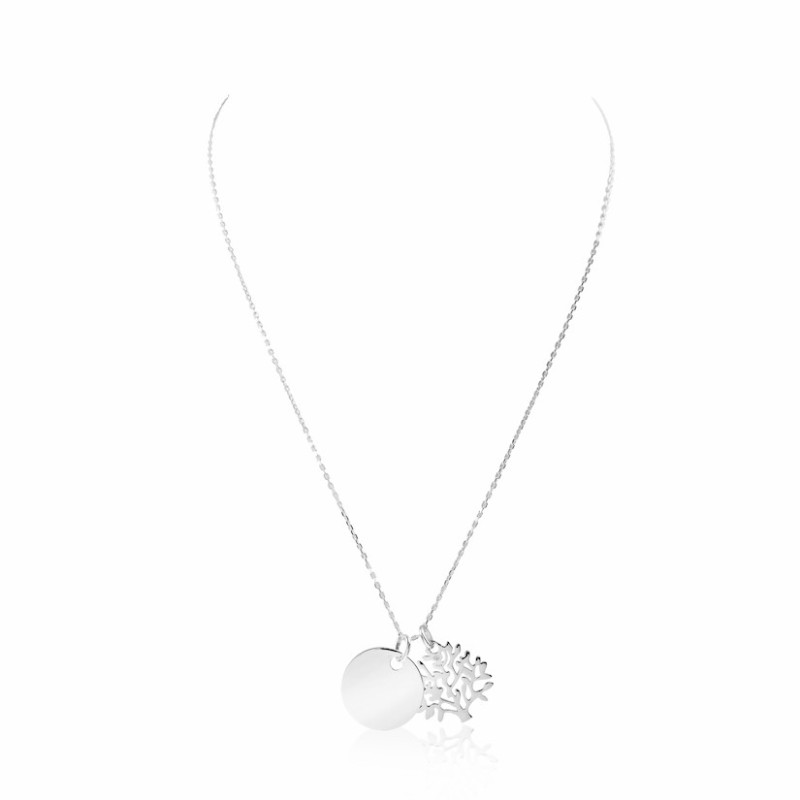  
Necklace medal tree of life personalized woman 20mm
Solid silver 925
Length: 42cm
Weight: 5,24gr
Measurement tree of life: 2 cm X 2.10 cm
Medal diameter: 2 cm
Number of characters: Front/back 25 characters
Free engraving
Free Shipping - Ships within 24h-48h
Product customization
Don't forget to save your customization to be able to add to cart
General conditions of Sales
Delivery policy
Returns policy
Promise of the Tree of Life: Physical and Spiritual Fulfillment
The tree of life pendant is a universally known symbol. But what does it mean? In reality, each territory and religion has its own meaning of the tree of life. But in any case, the common point is the sacredness given to this tree. In general, the tree of life represents physical and spiritual fulfillment. This silver tree of life necklace from Art'emi is also made up of a customizable medal pendant and a little rigid silver mesh chain. In addition, a silver carabiner clar is integrated into this women's jewel. The two charms tree of life and medal are a perfect set for this silver necklace with family and nature spirit.
Make this silver medal necklace a unique and strong necklace. And think of the medal engraved for a unique jewel. Your jewelry box will consist of your personal jewelry collection with the customization of silver jewelry.
If it is a jewel to offer, the bohemian and ethnic spirit of this jewel necklace will necessarily please the person who receives it and will allow to offer a unique and perfect gift. In addition, it remains elegant and chic with its total silver look. Discover our silver earrings, silver bracelets and silver rings in the women's jewelry collection. All original to guarantee a success in your heart.
Your favorite jewelry brand, art'emi, therefore offers this sterling silver chain necklace. Adopt this glamorous, elegant and discreet look with a silver medal to engrave.
Match your personalized silver tree of life pendant necklace with a silver bracelet or vermeil earrings for more originality. The adornments are also back! So do not forget the pendant tree of life, which you can hang on a chain bracelet from home.
A customizable lucky charm necklace
This necklace medal tree of life is THE ideal gift. Indeed, silver tree of life jewelry is very fashionable. We offer tree of life jewelry to bring happiness to the people we love and want to protect. This woman necklace conveys the message of great affection. Especially since it is possible to accompany it with a personal engraving for more elegance. You can engrave a first name, a word, a date, a drawing... The only limit is that of your imagination. In addition, we offer a wide choice of typography so as to make your personalized silver jewelry as personalized as possible. Thus, this necklace is an ideal and perfect gift for occasions such as Christmas, Mother's Day or a birth. Start making your personalized gift that will please for sure.
Find this necklace in the category of children's jewelry! Finally, the jewelry store also offers jewelry in mother-of-pearl, gold, coral, turquoise, vermeil (jewel in sterling silver and 18-carat gold plated) or precious stones. Choice for quality women's jewelry, but also jewelry for men and children.
A wide range of necklaces with a medallion or ring bracelets are available on the online store. Find your happiness and create assortments of trendy accessories such as a leather strap and a pretty silver ring? The mixing of materials, such as gold and silver, is very trendy at the moment. These are timeless looks and suitable for all occasions. You will shine with a thousand lights with the jewelry for women art'emi. A treasure trove of finesse, minimalist but also fantasy hides under the shop art'emi.
A tree of life medal necklace of exceptional quality
The jewelry created by Artemi has always been made of solid silver (sterling silver). This silver 925 consists of 92.5% silver and 7.5% copper. Thanks to this alloy, we make for you jewelry of great strength. Thus, this necklace brings good luck can be transmitted from one generation to the next thanks to precious metals. This women's jewel is timeless and infinite and can be suitable for an ideal family jewel. In addition, this quality jewel exists with a medal pendant of different sizes. It exists in 1 cm, 1.5 cm, 2 cm in diameter. You can find these models in the tab of our customizable jewelry and customizable women's necklaces.
It is here that you will find women's pendant necklaces made of silver, vermeil, gold, semi-precious stone, etc.
Cracked for the silver jewelry collection art'emi. In addition, cleaning your silver bracelet can be a difficult task, so think about our article to find tips and explanations to properly clean your silver jewelry. Two articles on cleaning gold jewelry and leather jewelry are also available on our blog. For more security, you can always ask your jeweler to take care of your silver jewelry.
Jewelry art'emi are jewels made for women. Silver or vermeil rush bracelets, leather cuff bracelets, chain bracelets, necklaces, gourmet bracelets, sautoirs, silver rings and so on.
In addition, art'emi wants to offer you two of its services: the engraving of your jewel as well as the delivery of all your jewelry, from wherever you are. So we look forward to your order!
A newsletter is at your disposal for all new features.
Specific References
ean13

5406107055519

upc

545853517133