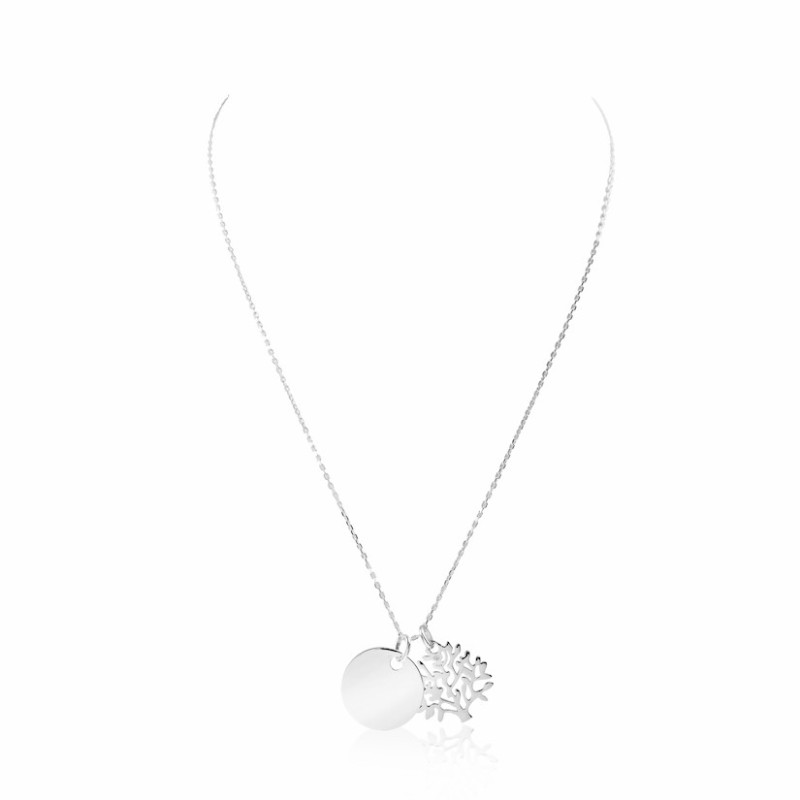  
Necklace medal tree of life personalized woman 20mm
Massive silver 925
Length: 42cm
Weight: 5.24gr
Tree of life measurement: 2 cm x 2.10 cm
Medal diameter: 2 cm
Number of characters: Recto/Verso 25 characters
Free engraving
Free shipping - Ships within 24 hours
Product customization
Don't forget to save your customization to be able to add to cart
Privacy - Security Policy
your personal data
Delivery policy
Everything you need to know about delivery
Return policy
Everything you need to know about the return
Promise of the Tree of Life: Physical and Spiritual Blossoming 
The tree of life is a universally known symbol. But what does it mean?  In reality, each territory and religion has its own meaning of the tree of life. But in any case, the common point is the sacred character given to this tree. Generally speaking, the tree of life represents physical and spiritual fulfillment. This necklace tree of life from Art'emi is also made of a personalized medal. Make of this medal necklace a unique necklace with a strong meaning.   
A personalized lucky necklace 
This necklace medal medal tree of life is THE perfect gift. Indeed, the tree of life jewels are very fashionable. We offer tree of life jewelry to bring happiness to people we love and want to protect. This necklace conveys the message of great affection. Especially since it is possible to accompany it with a personal engraving. You can engrave a first name, a word, a date, a drawing... The only limit is that of your imagination. In addition, we offer you a wide choice of typography to make your jewelry as personal as possible. Thus, this necklace is an ideal gift for Christmas, Mother's Day or a birth. 
A necklace medal tree of life of an exceptional quality 
The jewels created by Artemi have always been made of solid silver. This 925 silver is composed of 92.5% silver and 7.5% copper. In this way, we manufacture for you jewels of great resistance. Thus, this lucky necklace can be passed on from one generation to the next. Moreover, this quality jewel exists with a medal of different sizes. It exists in 1 cm, 1.5 cm, 2 cm diameter. You can find these models in the tab of our customizable jewels. 
In addition, Art'emi would like to offer you two of its services: the engraving of your jewel as well as the delivery of all your jewelry, and this, from wherever you are.
Specific References
ean13

5406107055519

upc

545853517133