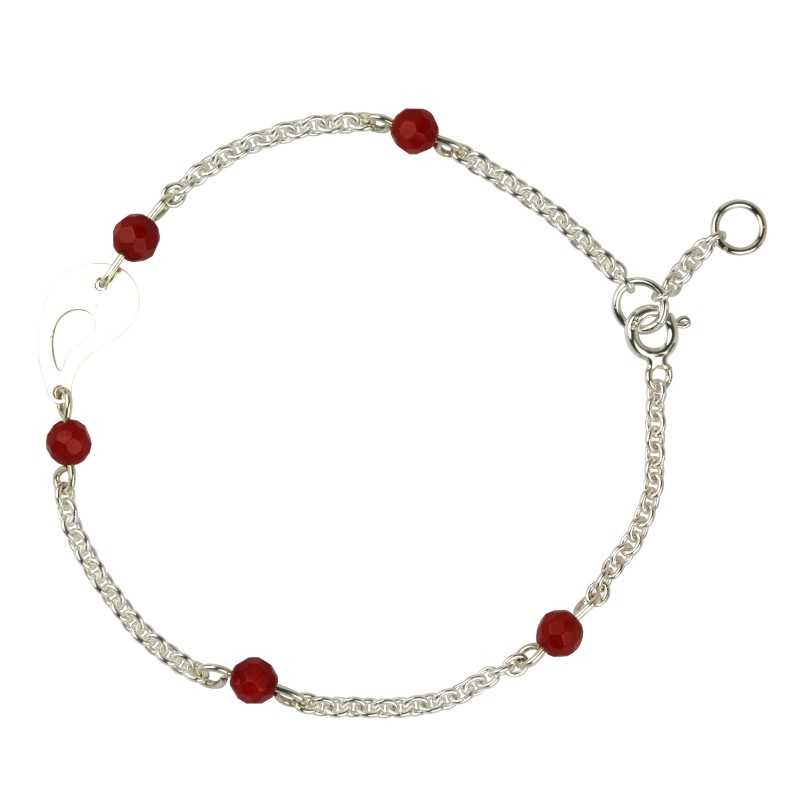  
Bracelet silver coral woman
Solid silver 925
Red Coral
Length: 18 cm
Free Shipping - Ships within 24-48 hours
General conditions of Sales
Delivery policy
Returns policy
Silver coral bracelet women: a stunning bracelet
Are you looking for an elegant ornament but with personality? Do you want a sober women's bracelet that deviates from the codes of classicism? The silver coral women's bracelet is for you! He is the friend of discreet women who seek to assert themselves by their singularity. Indeed, this bracelet in fine meshes of sterling silver sports small coral beads that give it character. Easy to wear, it will magnify your style of dress, whether chic or casual. At the beach, at the office or in the evening, he will accompany you everywhere. Coral brings fantasy to this jewel. Therefore, find the entire collection of coral jewelry for more costume jewelry.
art'emi offers jewelry collections for women but also for men. So if you have a birthday approaching or just to look for a gift idea, feel free to look at the selection of men's jewelry.
Looking for a jewel for this summer? The jewel of your holiday? This silver and coral bracelet is ideal. For more ideas, check out our article on jewelry and travel.
The trick art'emi : wear this superb bracelet with a nice customizable solid silver medal pendant necklace, a silver rush bracelet and a sumptuous ring to engrave. A silver look with only silver jewelry for women. So adopt this bracelet and keep it in your jewelry box. This is a timeless gem that you will take out for all occasions. In addition, it is suitable with all types of jewelry, whether it is your diamond ring, your rhinestone necklace or your precious stone bracelet, the coral bracelet blends perfectly with your women's jewelry.
The quality ofart'emi jewelry
The jewelry ofart'emi uses authentic know-how and quality materials. The women's coral silver bracelet ofart'emi is made from silver and coral.
For starters, 925 silver (also called solid silver) contains 92.5% silver as well as 7.5% copper. It is a very flexible precious metal. This silver / copper combination gives the strength necessary to make this bracelet. As a result, all the jewelry art'emi sports the hallmark "925" as a sign of authenticity.
As for coral, it is the material secreted by polyps (animals not exceeding one millimeter). Their skeletons, made of calcium carbonate, pile up to form coral. The varieties used in jewelry come from the Noble Coral.
Art'emi uses precious metals and semi-precious stones in the elaboration of its jewelry. As a result, you will find jewelry for women in turquoise, mother-of-pearl, quartz, agate or vermeil. Vermeil jewelry is 18-carat gold-plated silver jewelry.
This jewel for women is an ideal and perfect gift idea. Indeed, whether for a birthday, Christmas or for your friend's engagement, the women's bracelet is a must. So think about this jewel to offer, it will please for sure!
The qualities of the silver coral bracelet woman of Art'emi
This magnificent bracelet for women will surprise you. It perfectly combines refinement and originality. Its bohemian, ethnic spirit brings a casual side to the bracelet while being refined with its solid silver mesh chain. Are you pouring more silver jewelry? So look at our silver pendants, silver medal necklaces, silver timeless-looking rings and solid silver women's bracelets set with semi-precious stone such as turquoise, mother-of-pearl or coral.
In addition, you can have all of our creations delivered to you for free throughout the intergalactic world. Finally, we remain at your disposal to answer your questions.
This silver coral women's bracelet will blend perfectly with the coral sautoir or with the coral necklace for women, a necklace more flush with the neck. Do not hesitate to zieuter our entire collection of silver and coral jewelry.
Note of the day: the trend is to gemstones. Timeless and sophisticated, a large part of the precious and semi-precious stones are affordable! So do yourself a favor.
Specific references
UPC

541756792769

EAN-13

5419855055106