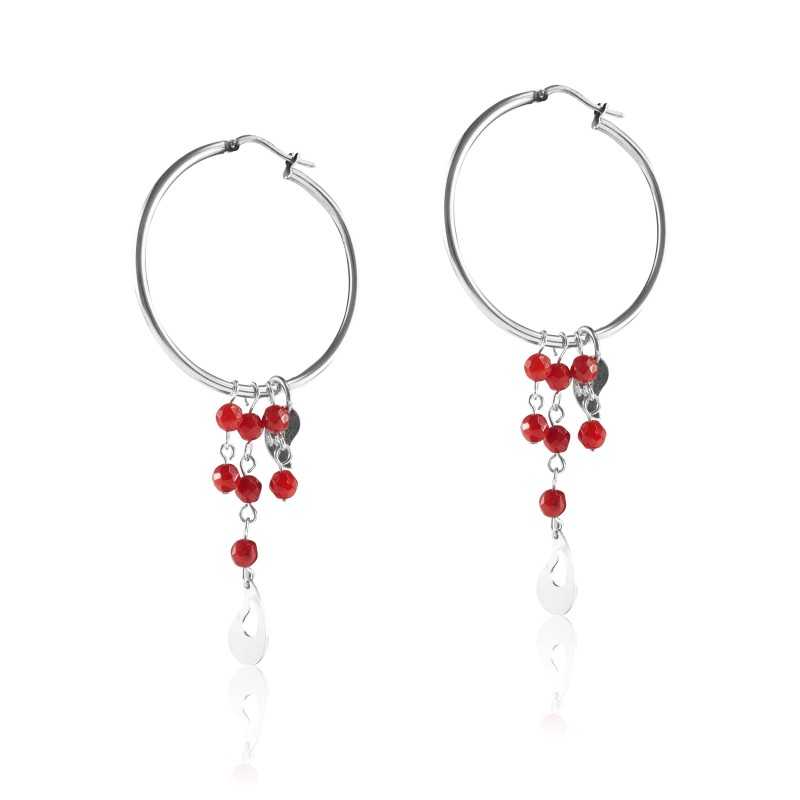  
Red coral hoop earrings
Solid silver 925
Red coral
Diameter of beads: 4mm
Earring length: 8cm
Free shipping - Ships within 24-48 hours
General conditions of Sales
Delivery policy
Returns policy
Coral creole earrings : a dazzling pair
You want earrings that look like you? The jewellery brand Art'emi offers you its gift idea to give the ideal gift to someone or yourself. This dazzling pair of coral creole earrings in solid silver will certainly please you. It is elegant, trendy and glamorous, yet subtle. Its creator Artémi wanted to give a feeling of movement to this woman jewel. Fluid, it sways to the rhythm of your movements. Earrings that accompany you at every step. They alternate fine solid silver links and delicate coral pearls , which give them a very special charm.
These semi-precious stone earrings will be perfect as a birthday gift, Christmas gift, Valentine's Day or even Mother's Day gift. It is a timeless piece that goes with all the outfits in your wardrobe, that you can wear on all occasions.
The quality of the jewels ofart'emi
Synonymous with know-how and creativity, the jewels ofart'emi use noble materials. The silver and coral earrings ofart'emi are made of silver and coral.
Let's talk about solid silver (or 925 silver or sterling silver). It contains a minimum of 92.5% silver and 7.5% copper. It is not without reminding that silver is a very malleable material. The perfect alloy between silver and copper makes the earrings strong and resistant. Moreover, because our jewels are of great quality, they bear the "925" hallmark, recognized by the world of jewellery.
Let's move on to coral, shall we? Coral is a material secreted by polyps. It forms large banks and marine atolls. It is a mineral substance. Nevertheless, the varieties used in jewellery very often come from the noble coral.
The silver and coral creole earrings for women fromart'emi, an outstanding pair
Firstly, it is the perfect combination of refinement and finesse. Moreover, the coral tip and its warm color with reddish reflections will give you good colors and will revive your summer memories. Moreover, you can have all the art'emi creations delivered free of charge anywhere in the world. Finally, we remain at your disposal to answer your questions regarding the purchase process, your order and manufacturing.
In addition, the jewellery brand Art'emi invites you to come and discover the other jewels in its women's jewellery collection, its men's jewellery collection and its children's jewellery collection. You will find gold rings, long necklaces, chains, gold bracelets, tree of life necklaces, bracelets, name necklaces, gold chains, cufflinks, medallions, medals, etc. Art'emi uses precious metals to manufacture its most beautiful jewels, you will find vermeil, pink gold, fine stones, tourmaline, yellow gold, semi-precious stones, turquoise, white gold, pearls, pink quartz, agate, coral, sterling silver, mother-of-pearl, leather,
These women's coral and silver creole earrings will go very well with the corai necklacel the coral necklace or the coral bracelet. So, don't hesitate to take a look at our whole coral silver collection. Indeed, it will plunge you in a magical universe where colors, textures, and noble materials. Also have a look at our personalized jewels, where you can engrave a little bit of everything, like your initials, your first names, etc.
Specific references
UPC

547930592316

EAN-13

5468598723865