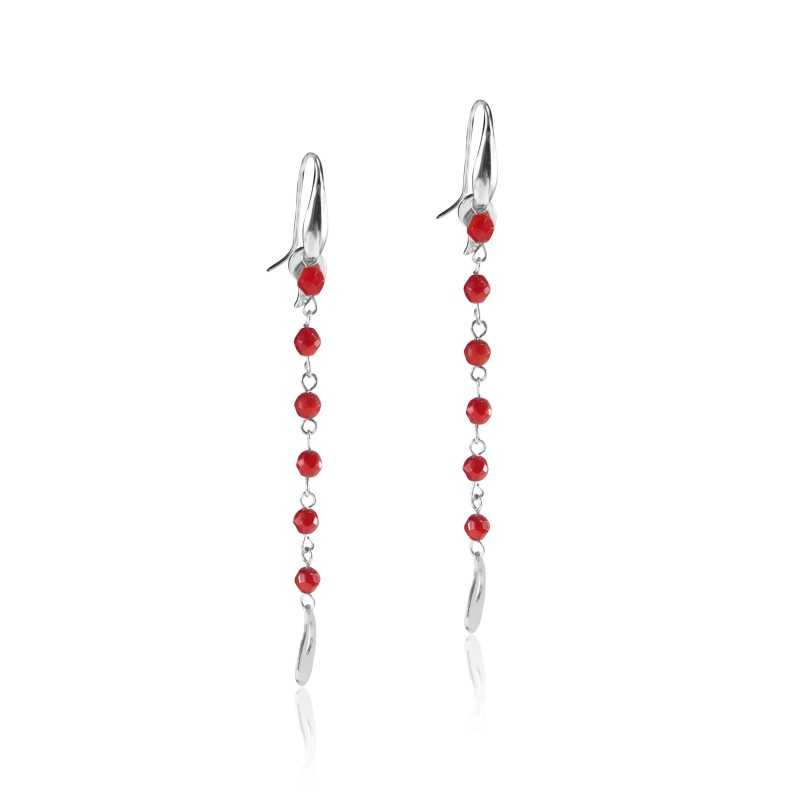  
Red coral hanging earrings
Solid silver 925
Red coral
Diameter of beads: 4mm
Earring length: 8 cm
Free shipping - Ships within 24-48 hours
General conditions of Sales
Delivery policy
Returns policy
Red coral hanging earrings: a sophisticated pair
Sophisticated is the most appropriate word to describe these red coral and silver hanging earrings. This pair is elegant and well crafted. Perfect to dress your evening dress, highlight your head bearing and your hairstyle. It is also suitable for more casual clothing for sunny days. Indeed, these buckles alternate fine silver meshes and delicate coral pearls, which give it all its charm. No doubt they will surprise you
The quality of art'emi jewelry
The art'emi jewelry is the result of an authentic but above all unique know-how. They are made in the purest tradition. The art'emi red coral hanging earrings are made of 925 silver and coral.

To begin with, 925 silver (also known as solid silver or sterling silver) contains at least 92.5% silver, supplemented by 7.5% copper. It is this combination of both materials that gives these earrings an incredible strength. In fact, all the silver jewelry produced by art'emi bears the "925" hallmark, recognised in the world of jewelry.
To continue, the coral. This is the material secreted by polyps. It forms large banks and marine atolls. It is a mineral substance. The varieties used in jewellery come from noble coral.
Red coral hanging earrings by art'emi, an outstanding pair
First, it is the perfect combination of refinement and originality. In addition, the coral tip will give you a healthy glow and revive your summer memories. In addition, you can have all art'emi creations delivered free of charge anywhere in the world. Finally, if you have any questions, don't hesitate, we are here to answer you ! The #happyfamilyartemi will be happy to help you.
These long coral and silver earrings will go very well with the  red coral necklace. Feel free to take a look at our entire coral silver collection. It will immerse you in a magical universe where colors, textures, and noble materials.