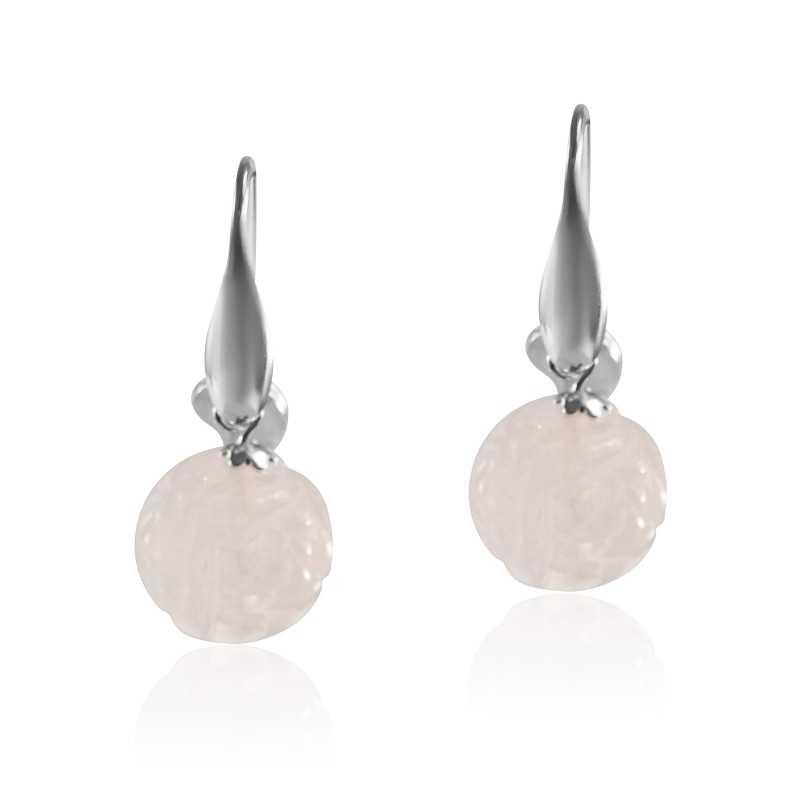  
Earrings pink quartz balls
massive silver 925
Ball cut in pink quartz
Earring length: 10 mm
Free shipping - Ships within 24-48 hours
General conditions of Sales
Delivery policy
Returns policy
Earrings pink quartz balls : a classic pair
With a discreet and refined natural style, you want to acquire a pair of earrings that looks like you ? The earrings pink quartz balls will most certainly meet your expectations. Go anywhere but elegant, they will dress all your outfits day and night. Mounted with a pink quartz ball carved in the mass, this pair of earrings will undoubtedly enhance your ear(g)lobe!
The materials used by art'emi jewelry
The Belgian jewelry company art'emi highlights its jewelry made from quality materials. Here, the earring frames are made from solid silver (commonly known as Sterling Silver or 925 Silver). It contains 92.5% silver which is supplemented by 7.5% copper. Indeed, pure silver is known to be very malleable. It is this alloy of silver and copper that gives the material the strength necessary for jewelry making. In addition, all our silver jewelry bears the "925" hallmark as a sign of quality.
The pendants balls are made of pink quartz. It is available in a range of shades from pale pink to dark pink. It is the presence of trace elements that gives it its beautiful pink colour. Quartz, also known as crystal, (from the Greek krystallos: ice). In lithotherapy (a method of healing with crystals), quartz is the stone of the heart, love and peace. The most beautiful stones come from Madagascar and Brazil. Did you know that? The Chinese put pieces of pink quartz in the foundations of their homes during construction, to bring luck to the home.
Why choose art'emi ?
This lovely pair of earrings with quartz earrings is one of the safest values of art'emi jewelry. Simple and discreet, these small spheres are evocative of elegance, refinement and sobriety. We remind you that you can have all art'emi creations delivered to you free of charge anywhere in the world. Finally, if you would like more information about our products, you can contact us online. Do you have a question? The happy family answers present!
Don't we have enough? Find his older brother, the lovely necklace ball of rose.