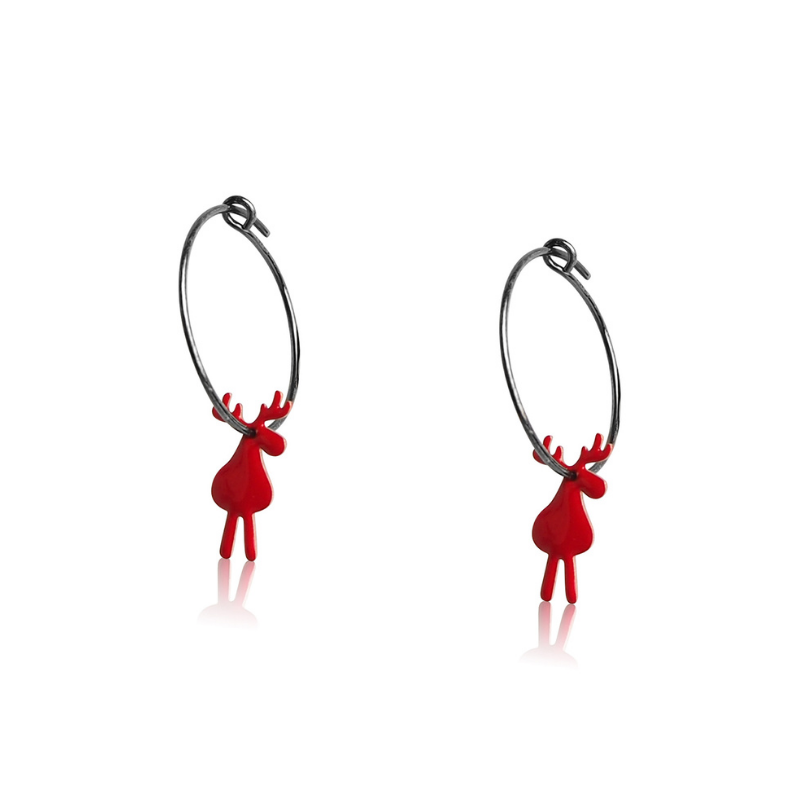  
Creole earrings Christmas reindeer enamel woman
Solid silver rhodier black
Diameter earrings: 18mm
Double-sided Christmas reindeer pendant in red enamel
Pendant dimension: 16mm X 8mm
Earring length: 34mm
Free shipping - Ships within 24-48 hours
General conditions of Sales
Delivery policy
Returns policy
The novelty ofArt'emi, Christmas reindeer earrings
It is with the greatest pleasure that we have released our collection of jewelry for women especially for the holidays. Our jewelry store offers jewelry worthy of the greatest jewelers with impeccable quality. Our Original and Elegant Christmas reindeer earrings will perfectly dress up your look whether it is silver, gold, simple or extravagant.
In addition, these beautiful hanging earrings are ideal for giving a gift or for yourself. They will be perfect to accessorize your outfits and add a touch of originality. So, do not hesitate any longer and go for it to offer the ideal gift.
Finally, if you want to discover the rest of our jewelry collection which consists of necklace and earrings, we invite you to visit our online jewelry store!
Exceptional materials
First of all, our beautiful pair of women's earrings in solid silver 925 is composed of a Creole in vermeil yellow gold 18 carats as well as a pendant in green enamel. We want to offer the best quality to our customers. Our silver jewelry consists of 92.5 % sterling silver (solid silver 925) and 7.5 % copper. The combination of these two materials allows us to make the jewel last over time. In addition, silver is a precious metal widely used, because it is stainless in particular. In addition to precious metals like gold and silver, we use semi-precious stones like; coral, mother-of-pearl, turquoise, rose quartz, pink tourmaline and black agate. If you want to know more about the materials, we invite you to click here !
In addition, Art'emi offers a repair and cleaning service to take care of your jewelry. To do this, simply go to his workshop by making an appointment. Art'emi will be very happy to welcome you.
Complete your jewelry collection
First, why not complete your earrings with the customizable tree of life medal necklace for women. This lucky necklace consisting of a sterling silver chain and a customizable pendant will necessarily please the person who will have the chance to receive it. With its bohemian and ethnic spirit, this glamorous and elegant necklace will become your indispensable.
Then, for a completely different style, the round dropstone necklace woman will suit you perfectly! This 18-carat rose gold-plated necklace in pink enamel consists of a sumptuous round pendant with precious stones such as tourmaline, cat's eye and moonstone. It will dress and shine your cleavage by revealing your femininity and your delicate personality. This timeless necklace also exists with an oval pendant!
A passion for engraving with ancestral techniques
Engraving is a real passion for Art'emi. Many jewels from our online jewelry store are customizable such as rings, gourmettes, bracelets, pendants for men, women and children. In addition, engraving is completely free! Customizing your jewel makes it unique and brings sentimental value. You can entrust him with your jewelry whether they are set with diamonds, crystals, precious stones such as emerald, ruby, sapphire. Or with fine stones such as lazuli, topaz, lapis lazuli or amethyst. Our jewelry uses artisanal techniques of great jewelers.
So do not wait any longer to treat yourself with our beautiful jewelry, all occasions are good to offer a jewel whether for a birthday gift or engagement. In addition, if you want to discover engraving ideas, we invite you to discover our article by clicking here.
Questions about Christmas reindeer earrings?
Do you have questions about our Christmas reindeer earrings? We will be happy to answer them! We will also advise you with pleasure on all the questions of the jewels of our jewelry store whether it is a silver ring, a silver necklace, a rush bracelet, a chain necklace or any other kind of jewelry for men, women and children. Our jewelry will send you your order in a beautiful case that can serve as a jewelry box.
To conclude, delivery is completely free and possible worldwide! So, go for it!
Specific references
UPC

547972839493

EAN-13

5420415457766