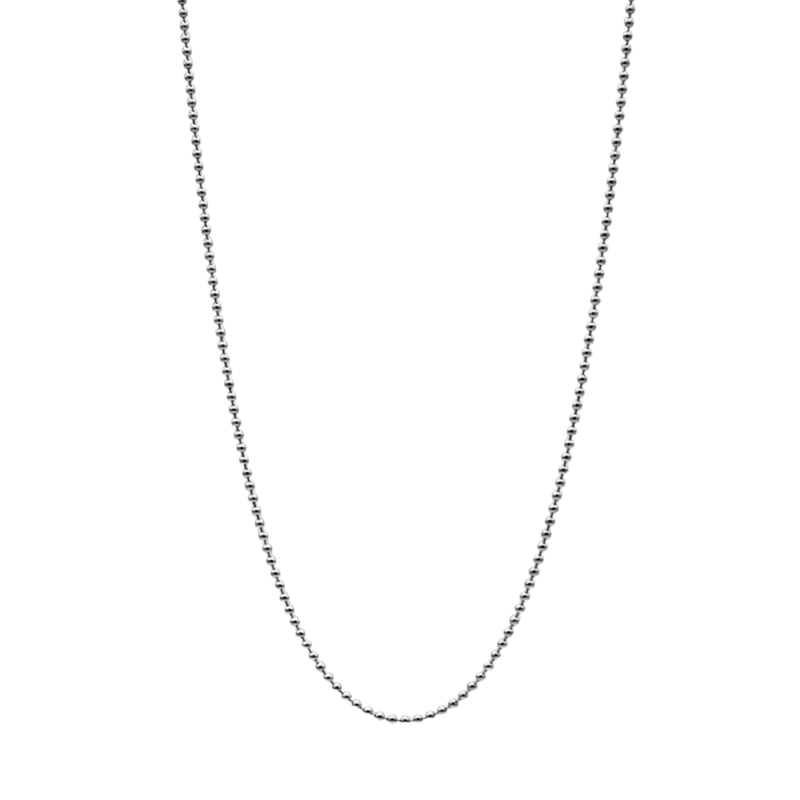  
Silver ball chain man
Solid silver 925
Weight: 6,61gr
Length: 70 cm
Free Shipping - Ships within 24-48 hours
General conditions of Sales
Delivery policy
Returns policy
The ball chain for men: Treat yourself
The men's silver ball chain is the trendy and ideal fashion accessory. Indeed, you can vary the pleasures with this magnificent chain. You can wear it alone on your turtleneck like a long necklace or under your T-shirt. Also remember to wear it with one of our customizable men's pendants. Because of this, you can imagine and create your silver jewelry as you wish, in other words, your costume jewelry. Dare the chain mesh ball silver man! This chain is designed with a carabiner clasp also made of sterling silver.
An idea for a trendy and timeless look to infinity? Perfect and original jewelry and accessories? Jeans, a white T-shirt with the ball mesh chain, a silver watch, a cotton cord strap and a leather strap or a pearl strap for a touch of rock and fantasy in your outfit. You will please for sure with this look a little bohemian, ethnic with silver jewelry. Your wrists will be trendy thanks to this look.
In addition, it is an ideal gift with a minimalist look while remaining elegant.
Discover our personalization offers
Not only is the silver ball chain the timeless jewel of all generations, but it is also the ideal accessory to change style and outfit to your liking. Indeed, thanks to the silver pendant medals that the jewelry store Art'emi offers you, you can create your style according to your tastes and your personality. In addition, it is the perfect gift for men. We know that it is always complicated to find the gift idea for gentlemen. Thanks to the designer Art'emi, you can create your jewel for men. Opt for a men's silver ball chain, ideal alone or accompanied by a personalized pendant medallion for the recipient. An engraved medal is always a pleasure. Our customization service is completely free, treat yourself! We offer a very wide range of typography to best meet your expectations from the most classic to the most original.
Finally, if you have any questions about an assortment of jewelry, a particular men's jewelry, or about customization, do not hesitate to send us a message. We will be happy to answer you!
Feel free to read our blog on corporate gift ideas!
Several silver jewels are available on the site. As a result, you can find a bracelet that will go perfectly with your jewelry in pearls, precious stone, diamond or yellow gold! The mix of gold and silver jewelry is very trendy.
Art'emi and passion for jewelry
The jewelry store Art'emi offers quality silver jewelry made from precious metals. As a result, the ball chain is made of solid silver. It is an alloy of 92.5 % pure silver and 7.5 % copper. This combination gives the silver jewel great resistance while being flexible. This is one of the many advantages of solid silver or sterling silver. It is very light and very solid. In addition, the medal charms art'emi are all silver.
Find our men's jewelry in sterling silver such as the military plate necklace or silver bracelets for men such as the rush bracelet.
And for more fantasy in your daily life, match yourself as a couple. A pretty silver ring for women and a superb silver mesh chain for men. You have enough to make jewelry assemblies for a silver and trendy couple. Embellish your necks, wrists and ears with jewelry from your favorite jeweler.
Do you prefer the color gold? Dare the vermeil jewelry, it is a silver jewel then gold plated in 18 carats. Do you want more colorful jewelry with more originality? Turquoise, coral, mother-of-pearl, rose and black quartz are widely used in jewelry art'emi. Then find the collection of jewelry for men with chain necklaces, silver bracelets, rush bracelets, chain bracelets or silver jewelry. Fill your jewelry box with art'emi. And discover women's jewelry too, silver ornaments or chains matching with men.
Come and discover our range of men's channels and let yourself be tempted! Small reminder, the delivery is also FREE. Enjoy!
To stay on the lookout for news, do not hesitate to follow us on social networks: Instagram and Facebook.
Specific references
UPC

544659299663

EAN-13

5437587670862