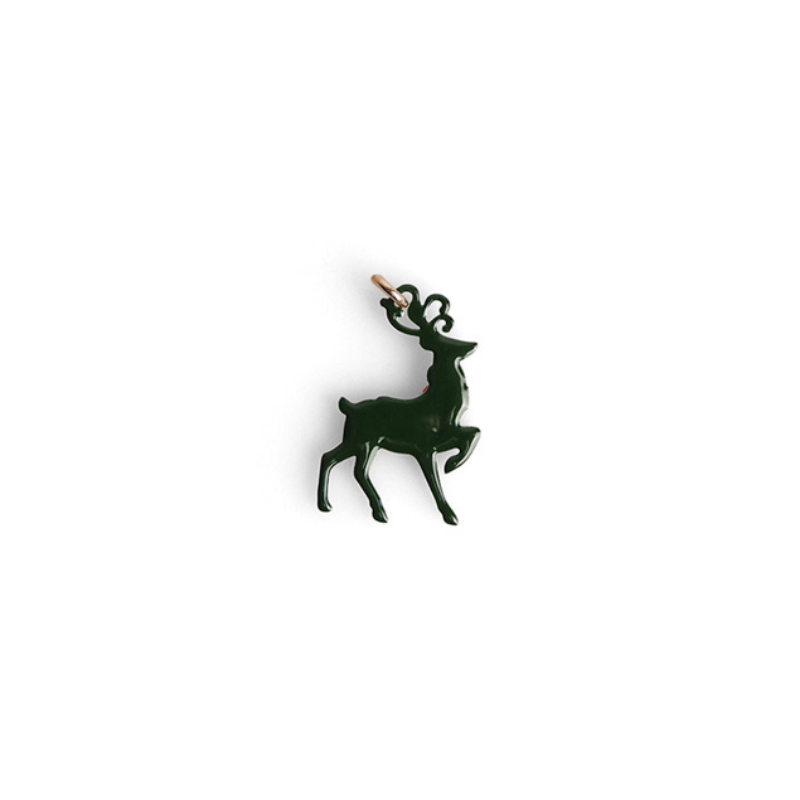  
Deer pendant child solid silver 925
Solid Silver 925
Green enamel deer pendant
Pendant dimension: 19mm x 13mm
Free shipping - Ships within 24-48 hours
General conditions of Sales
Delivery policy
Returns policy
A must-see for winter and Christmas
To best celebrate the arrival of Christmas and winter, our jewelry store offers its brand new collection of jewelry on the theme of the holidays. You will find necklaces, Creole buckles and pendants available in several motifs for women, children and teenagers such as the solid silver child deer pendant.
These costume jewels are a must at this time of year. Elegant and country-oriented, it is a perfect gift idea to offer to a child.
First of all, it goes with all outfits whether golden, silver, sequined or sober! They will combine with all your other jewelry whether they are gold, silver, diamond, lapis lazuli or even leather.
Then you can fall for the complete set by adding the Creole deer earrings in rhodium-plated silver for a 100 % Christmas look and what's more is matched!
Why is the silver child deer pendant made of enamel?
First of all, the pendant of the jewel is made of enamel. This is what offers it quality and resistance to any test. In addition, its color is deep and remains unchanged over time. Also, this material is also resistant to chemical aggressions, various corrosions. It is an anti-scratch material that is easy to clean and maintain.
You can find our necklaces with our Christmas pendants on our website. As a result, these are made with precious stones like solid silver 925 also called sterling silver or rhodium-plated silver. The " 925" hallmark is present on all silver creations ofart'emi as a guarantee of quality. It is this quality that gives the jewel its longevity over the years.
Our tips for pairing the silver child deer pendant
Discover the liberty bracelet star child in silver to engrave. The wrist circumference in liberty fabric, a bracelet with floral and colorful patterns that will delight the youngest and the largest. Discover our range of Liberty bracelets and its different variations of colors and adopt a lively and elegant bracelet that will accompany all the outfits of your child. In addition, this jewel is worn all seasons, whether in summer, or in winter.
Would you rather want another type of sterling silver bracelet? We've got you covered. Discover the silver slave bracelet. This jewel, timeless, trendy and discreet will sublimate the wrist of the person to whom you will give it. Your child will wear the jewel on all occasions and you will be sure that he will be conquered and at the top of the style!
Discover also our jewelry for men and women in precious stones and semi-precious fantasy on our website. For women, you can find our rings and rings, our set bracelets, our cuffs and our charms. For men, find our bracelets in metal or vermeil color rush as well as our medals.
Customize your jewelry according to all your desires!
Our jewelry offers a delivery and engraving service always free so go ahead and personalize your jewelry to make it unique!
Discover the cloud bracelet to engrave. This jewel, soft and sophisticated, will sublimate your wrist with class and finesse. In addition, the finesse of the chain makes this jewel very fancy and very elegant. Especially since this bracelet is made of silver, a timeless material and a sign of quality.
In short, have no fear, these jewels go with any other jewel whether in rose gold, white gold or yellow gold, diamond, silver, rhinestone and even with all precious stones! The colors go perfectly with turquoise, agate, mother-of-pearl, etc.
For more tips and gift ideas of jewelry to engrave, click here to access our blog post and find our gold, silver, leather and other jewelry for men and children on our site.
Find our silver jewelry in precious stone and diamond, quartz on our online sales site and on our blog.
How to contact us?
In addition, if you have any questions, need information or advice, contact our jewelry store. We will be happy to help you.
Despite this, whatever your type of jewel as original as it is, set frame or necklace, first name, in precious or semi-precious stone, gold and diamond or silver and leather, contact our jewelry store.
Finally, we remain at your disposal to help you make your choice among our wide range of jewelry. You can discover our suggestions to find the ideal birthday, wedding, engagement or baptism jewel.