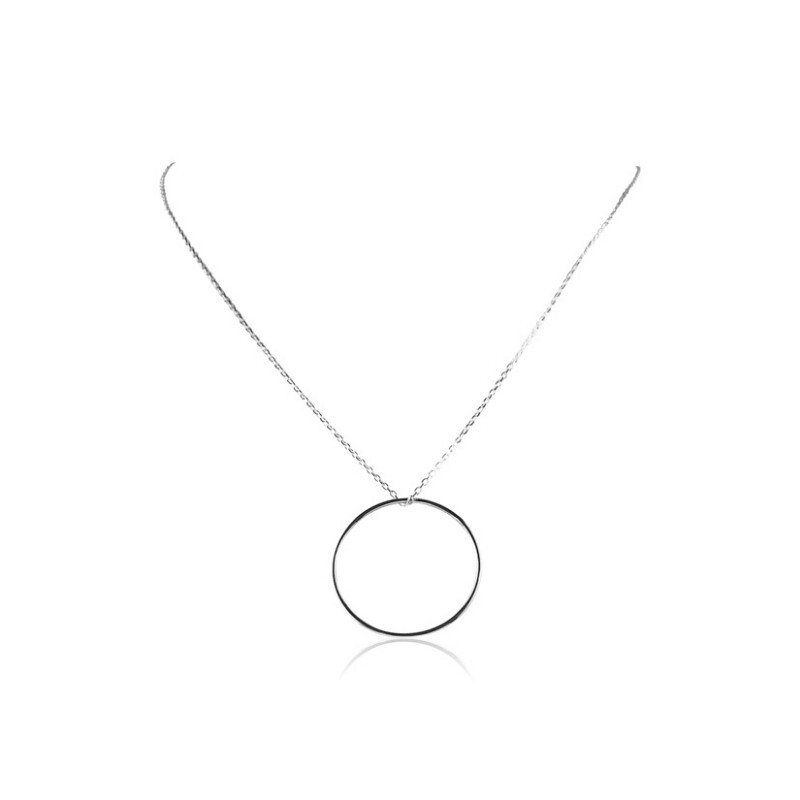  
Necklace large circle silver woman
Solid silver 925
Chain length: 42 cm
Circle diameter: 2.8cm
Weight: 2.00 g
Free Shipping - Ships within 24-48 hours
General conditions of Sales
Delivery policy
Returns policy
A sumptuous necklace for you women
Are you looking for a discreet and refined jewel for women? Opt for the silver large circle necklace for women. This silver jewel is of an incomparable finesse that you will not be able to do without. It is suitable for any style, whether for your daily outfit or that for a dress evening. All occasions are good! Indeed, this unique jewel is composed of a large circle in sterling silver as well as a chain mesh in silver also. A total silver look!
And to affirm this silver look, opt for the silver rush bracelet,the gourmet silver mesh,the silver pearl necklace and finally a sumptuous silver ring.
In addition, we offer a blog evoking several themes. Because of this, you can know the tricks to clean your silver jewelry without damaging it!
This costume jewel fits with all your other jewelry, whether you have jewelry in white gold, yellow gold, rose gold, leather, rhinestones, your diamond engagement ring, everything is suitable with solid silver!
Do you want an adornment with this necklace? Opt for silver Creole earrings. They will go perfectly with this jewel for women.
Massive money 925
What does massive money 925 mean? Quite simply: quality. Indeed, solid silver 925 is a quality metal thanks to its alloy of pure silver at 92.5% as well as copper at 7.5%. This combination gives strength and resistance to jewelry. Silver is one of the precious metals that the jeweler uses to make her jewelry. Indeed, quality is important! Because of this, you will find on all jewelry made of solid silver, the hallmark 925 as a guarantee of quality. So you don't have anything holding you back anymore? The entire jewel is made of silver, so the pendant, mesh chain and clasr are made of sterling silver. Adopt this silver large circle necklace for women and please your jewelry box.
In addition, the precious metals used by art'emi are of high quality, as are silver and vermeil too. The vermeil is a gold jewel, it is originally a solid silver jewel and then covered with an 18-carat gold plated.
Finally, the best for last, the gemstones. Art'emi makes jewelry set with semi-precious stones such as mother-of-pearl, turquoise, coral, agate, quartz, tourmaline, cat's eye. Unique and original jewelry just for you.
The grand circle necklace of the jewelry store Art'emi
Art'emi hasn't finished surprising you! Indeed, not only are the jewels of exceptional quality, but in addition, the jewelry store offers you a completely free delivery service! Isn't it beautiful?
In addition, another service is offered by Art'emi : personalization. And as you can guess, it's also free. So adopt timeless jewelry that you will keep forever thanks to art'emi. And discover our customizable jewelry for women, men and children without further delay! You will find bracelets, necklaces, pendants, gourmets and lots of other jewelry to customize.
Looking for a gift idea? The ideal gift is here thanks to a collection of jewelry for women, men and children that includes jewelry for all tastes and at all prices! Then the perfect gift for your grandmother is here with a silver medal necklace to engrave! In addition, you can find this necklace in men's jewelry.
Finally, the Art'emi team remains at your side to help you with personalization, a particular request or a specific jewel. Do not hesitate to send us a message!
The favorite art'emi : assemble this jewel with your gold ring, a silver bracelet with charms and a bracelet set with fine stones. You will be classy and elegant with this combo.