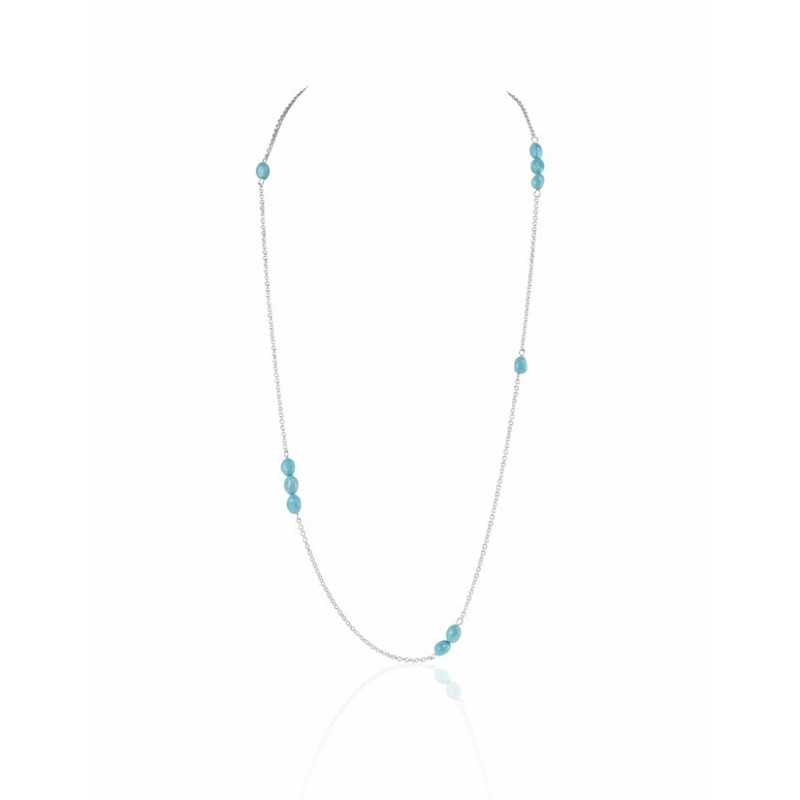  
Women's turquoise sautoir necklace
Solid silver 925
Turquoise
The diameter of the stones is irregular
Length: 1m
Free Shipping - Ships within 24-48 hours
General conditions of Sales
Delivery policy
Returns policy
Turquoise sautoir necklace: an unparalleled beauty
The sautoir necklace is a must in the jewelry box. Due to its finesse and elegance, this turquoise pearl jumping necklace has not finished seducing you. Indeed, the turquoise sautoir necklace is ideal to wear on a top, blouse or dress. It brings fantasy to your outfit. In addition, it is an original gift idea for your mom, sister or best friend! You can make sure that no one will have the same! Finally, it is a timeless jewel that will always wear, even to infinity!
Indeed, this jewel always lasts, turquoise and silver marry with all other jewels, whether other precious stones, all types of gold, white gold, yellow gold, or rose gold and also rhinestones! It has to shine.
Want more gift ideas for your mom, more costume jewelry? Discover our blog page dedicated to gifts for mom! Perhaps the ideal gift is known here, as is the target pendant necklace to be engraved.
Art'emi and exceptional jewelry
The Brussels jewelry store art'emi highlights its quality jewelry made from exceptional materials. Here, the mesh chain of the turquoise sautoir necklace is made from solid silver (or sterling silver). It contains at least 92.5% silver, as well as 7.5% copper. It is this mixture of silver and copper that gives the material the robustness necessary for the manufacture of women's jewelry. All of our silver jewelry has the hallmark "925" as a sign of our quality and know-how.
By the way, the rest of the women's jewel is made of turquoise. Turquoise is a fine ornamental stone of sky blue to blue-green color, opaque. These are precious stones. In addition, the Persians used it in the manufacture of fabulous jewelry that today would be called ethnic jewelry.
Because of this, you have a silver jewel set with semi-precious stones. If you want more precious stones, discover our jewelry for women in coral, mother-of-pearl, quartz, agate or tourmaline.
Finally, art'emi also masters gold, so you can find gold jewelry, especially vermeil. It is an 18-carat gold plated on a silver jewel. To be in total golden, you can dare the necklace in gold close to the neck and the rush in vermeil. So, you all have what you need to adopt the golden, silver or colorful look you desire.
The women's turquoise sautoir necklace: an evocative necklace
Elegant and evocative of a summer by the sea, the turquoise women's sautoir necklace will make you plunge into wonderful summer daydreams! No wonder blue is one of our favorite colors, indeed, it is omnipresent around us. This one fits all your outfits. Indeed, the jewelry store art'emi takes care to transform all its jewelry into magical, unique and emotional creations. In addition, we remind you that you can have all the creations art'emi delivered free of charge throughout Europe. We also remain at your disposal to answer your questions regarding the purchase and manufacturing process.
Let's not forget that a collection of jewelry for men and children is available on the site.
To be consumed without moderation and for our greatest pleasure with the turquoise barrette necklace, the turquoise drop earrings, and the turquoise cluster earrings. Make a pretty adornment.
Note of the day: rings are in our daily lives, whether with the engagement ring, the diamond wedding ring. Therefore, we also need the rings of everyday life, which we change according to our mood, with or without charms! Then discover the art'emi ring collection.