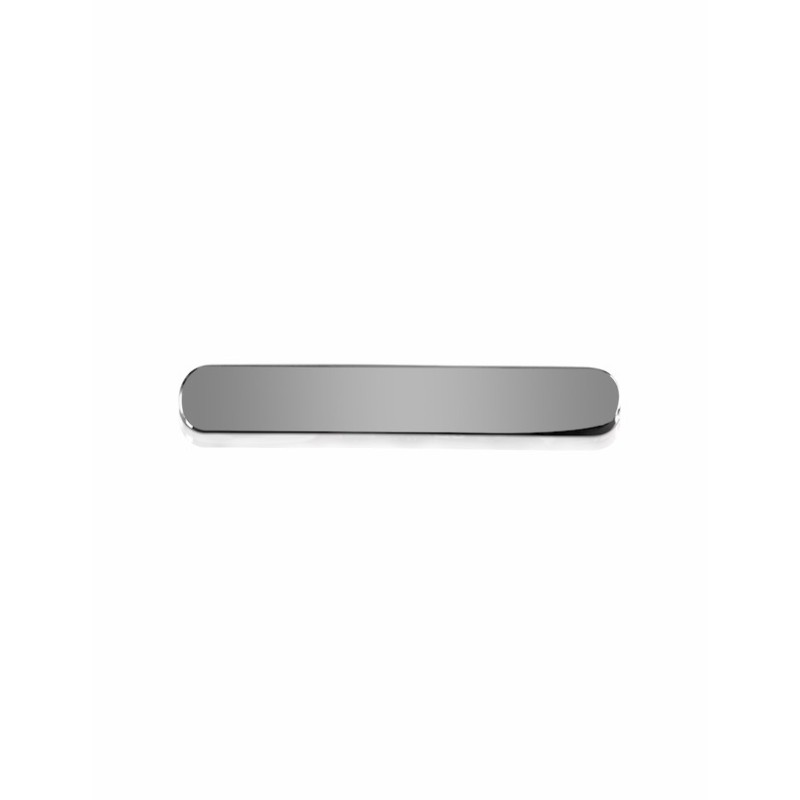  
Men's customizable silver rounded tie clamp
Solid silver 925
Length: 5 cm
Largueur: 0.5 cm
Number of characters: Front 25 characters
Weight: 8,65gr
Free engraving
Free Shipping - Ships within 24-48 hours
Customization
Don't forget to save your personalization so you can add it to the cart
General conditions of Sales
Delivery policy
Returns policy
A rounded tie clamp for Monsieur
A tie clamp is a metal accessory, elegant and distinguished to keep your tie against your shirt in its place. Thanks to our little guide, you will learn everything you need to know about how to wear an accessory such as the rounded tie clamp. Thus, you will know how to be at the top of the modosphere and the envious will only have to stand well.
Pinch me if you can!
A tie clip is a ribbon of metal folded on itself, whose shape evokes that of a hairpin. It slips on your tie and on the legs of your shirt to hold them together well in place. Its interest? Dress your tie in style and keep it in the axis! The latter are elegant and simple to use. The main rule to remember and that a tie clamp should never be wider than the tie itself.
Most tie accessories are made of metal. At Art'emi, we use massive money. The latter (also known as 925 silver or solid silver) is composed of pure silver mixed with copper in order to increase its strength and durability. In addition, the money is easily cleaned, you can find all our tips by clicking here.
Are you conquered by massive money? Art'emi also offers you the silver drop cufflinks as well as the Venetian silver chain.
After World War II, the concept of brand and brand image developed rapidly and tie clamps were used to display one's affiliation with a club or company. The years passed, dress styles became more casual and tie accessories fell into disuse. Luckily for the contemporary gentleman concerned about his elegance, men's fashion is currently rediscovering its classic roots and tie accessories.
Why wear a rounded tie clamp Art'emi
First of all, tie clamps Art'emi are a safe bet. They are both discreet and sophisticated. Far from any exuberance, they will be able to accompany you in your daily life (job interview, meeting with the big boss, romantic dinner by candlelight ...). We are sure that you will know how to wear them proudly in order to beautify your ties. In addition, we remind you that our jewelry and accessories Art'emi are delivered free of charge anywhere you are. In addition, jewelry customization is also free! Finally, if you have the slightest hesitation, contact us!
Also discover its counterpart the rectangular tie clamp.
Specific references
UPC

540829898025

EAN-13

5438705153052