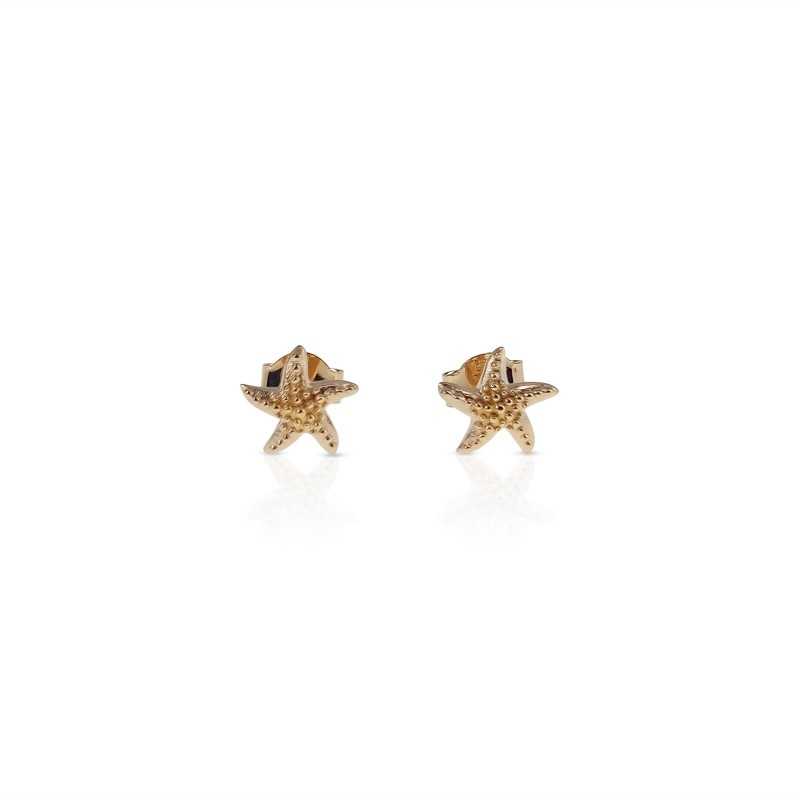  
Starfish earrings
Starfish earrings
Massive silver 925 gold plated 18 carats
Size: 7 mm
Weight: 0.7g
Free shipping - Ships within 24-48 hours
General conditions of Sales
Delivery policy
Returns policy
Starfish earrings : an ocean pair
The starfish earrings are discreet and elegant. Perfectly adapted to your summer wardrobe, they will bring a touch of freshness and originality. Practical and easy to wear at all times, you will never leave them ! They will easily suit women who can't stand bright, long and moving earrings. So, ladies, cast off, stay on course and opt for this adorable jewel !
Quality and the art'emi jewelry
The jewelry company art'emi presents its quality jewelry made from unique materials. Here, the starfish earrings are made from solid silver (also known as 925 silver, fine silver or sterling silver). It has at least 92.5% silver and 7.5% copper. In addition, pure silver is known as a fairly soft material. All our silver jewelry bears the "925" hallmark as a sign of our quality.
There is also his brother in vermeil. This is 925 silver that has been plated with gold with a minimum thickness of 3 microns. For the curious little ones, this technique is called electrolysis. The gold used for plating is 18-carat gold, consisting of at least 75% pure gold. Moreover, vermeil gives no allergy since it is silver covered with gold, two anallergic metals! Finally, another advantage of vermeil is that it has exceptional resistance.
Why succumb to art'emi starfish earrings ?
Evocative of the afternoons spent by the sea, the starfish earrings will bring you back to the warm sand, with this light sea breeze that caresses your skin. In addition, I remind you that you can have all our jewelry delivered anywhere in the world for free. Finally, we remain at your entire disposal to answer any questions you may have about the purchasing or manufacturing process.
For a real sailor look, pair these earrings with the sailor's bracelet. For an even more original touch, separate them with the anchor rudder earrings. This kind of earrings are to be consumed without moderation !
Specific References
ean13

5479357359065

upc

545476687053