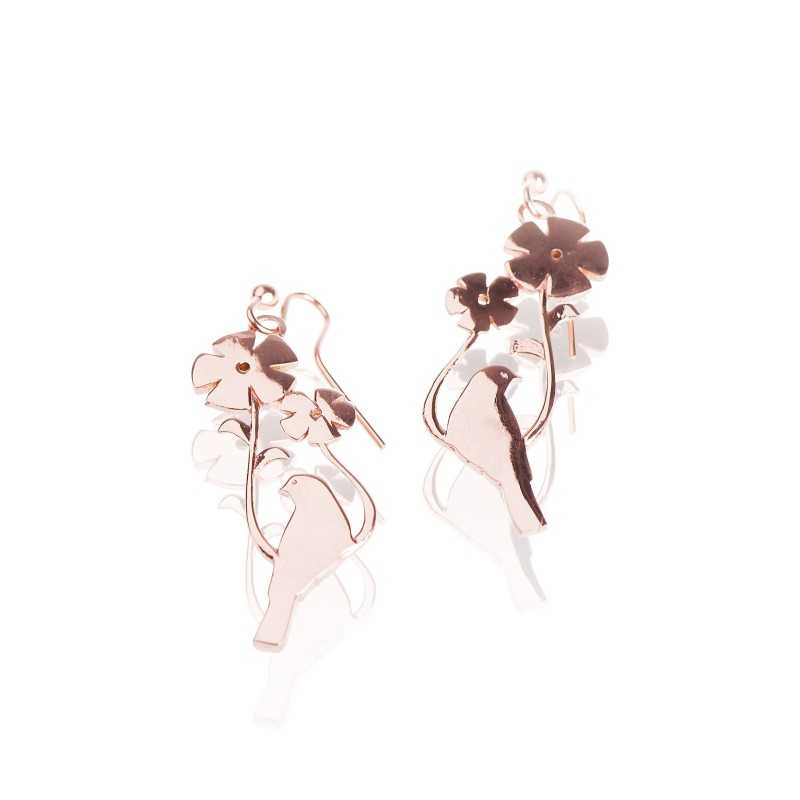  
Vermeil birds hanging earrings
MORE IN STOCK
Rose gold plated: 18 carats
Earring length: 4.5 cm
Earring width: 14 mm
Free shipping - Ships within 24-48 hours
General conditions of Sales
Delivery policy
Returns policy
Gemstone bird earrings: a dazzling pair
Soberer than the Creole version, these vermeil bird earrings will delight discreet and delicate women. Airy and refined, they feature a bird on its branch surrounded by pretty little flowers. Light and vaporous, this pair of earrings is elegant, but above all easy to wear. If you wish to give them as a gift, there is no doubt that these earrings will make a small effect on women who are well dressed and passionate.
Gilt and original creations byart'emi
Made from exceptional materials, art'emi creations are of rare quality. For example, these beautiful bird earrings for women are made of silver vermeil. It is silver 925 having received a gold plating of a minimum thickness of 3 microns, the process is called electrolysis. The gold used for plating is18 karat gold, consisting of at least 75% pure gold. In addition, vermeil does not cause allergies because it is silver coated with gold, two non-allergic metals! If that isn't good news. Finally, another advantage of vermeil is that it has an exceptional resistance to shock or otherwise.
The bird earrings in vermeil from art'emi, a jewel full of tenderness
This pair of earrings depicts the amorous encounter between two birds. Thus, it invites to daydreaming, fantasy and relaxation. The bird symbolizes freedom, peace and luck. The flowers symbolize life, joy and beauty. The woman who wears this jewel will shine with a thousand lights. For your information, we remind you that you can have all art'emi creations delivered free of charge anywhere in the world. Moreover, it is also possible to have this charming creation engraved at no extra cost. Finally, we remain at your entire disposal to answer your questions, the happy family will be happy to meet you.