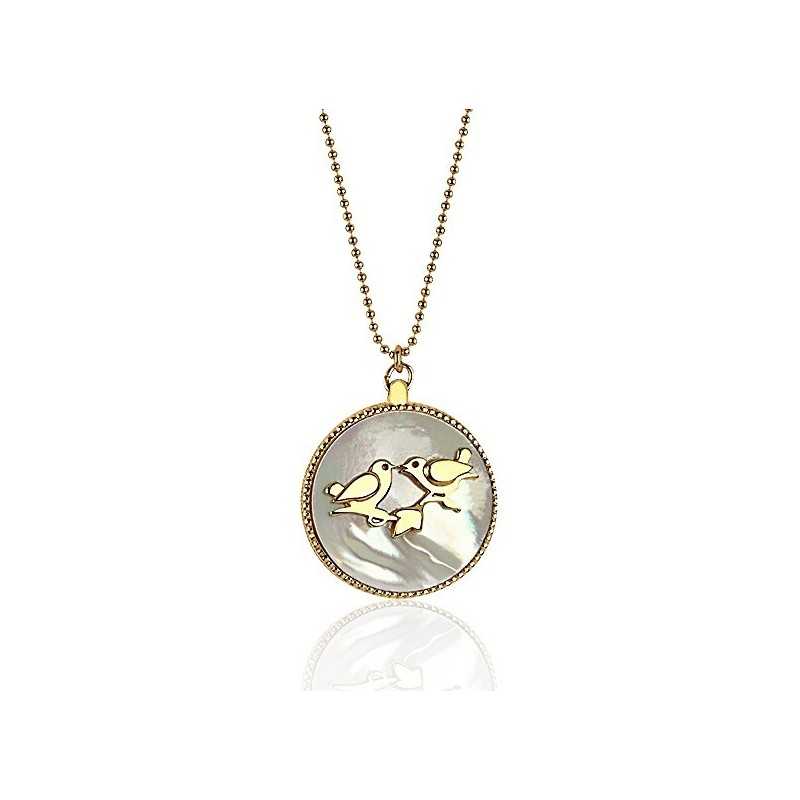  
Long necklace medallion woman
Massive silver 925
Gold-plated - vermeil
Chain length: 80 cm
Medal in mother-of-pearl
Free shipping - Ships within 24 hours
Privacy - Security Policy
your personal data
Delivery policy
Everything you need to know about delivery
Return policy
Everything you need to know about the return
Long necklace medallion woman : a graceful necklace
This gold plated woman's medal necklace is a jewel synonymous with elegance that you can't miss. It consists of a fine-mesh chain and an adorable medallion with a pair of beaked birds on it. It will be perfect for nostalgic, delicate and passionate women. It is a necklace that will bring a vintage but trendy touch to your outfits.
When art'emi meets silver
The art'emi Brussels jewelry store offers you quality jewelry made from exceptional materials. Here, the chain of the necklace medal woman is made from vermeil. This is 925 silver that has been plated with gold with a minimum thickness of 3 microns. The process is called electrolysis. The gold used for plating is 18-carat gold, consisting of at least 75% pure gold. Moreover, vermeil gives no allergy since it is silver covered with gold, two anallergic metals! Finally, another advantage of vermeil is that it has an exceptional resistance.
Nevertheless, mother-of-pearl is also in the spotlight with the necklace medal. Mother-of-pearl is a biocomposite, synthesized by molluscs throughout their lives by lining the inside of their shells. The word "mother-of-pearl" comes from the Arabic "naqqarah". In English, it is called after the name given to it by the first Queen Elizabeth: mother of pearl.
The medal necklace with birds in love woman, a concentrate of tenderness
The sentimental and poetic aspect of this necklace will make it a jewel that will find favor in your eyes. It encourages you to dream, to love and freedom. We also remind you that you can have all our creations delivered free of charge throughout Europe. In addition, the package will arrive with a certificate of authenticity and a one-year guarantee. Finally, we remain at your entire disposal to answer all your questions.
Also succumb to the irresistible charm of our splendid earrings birds in love.