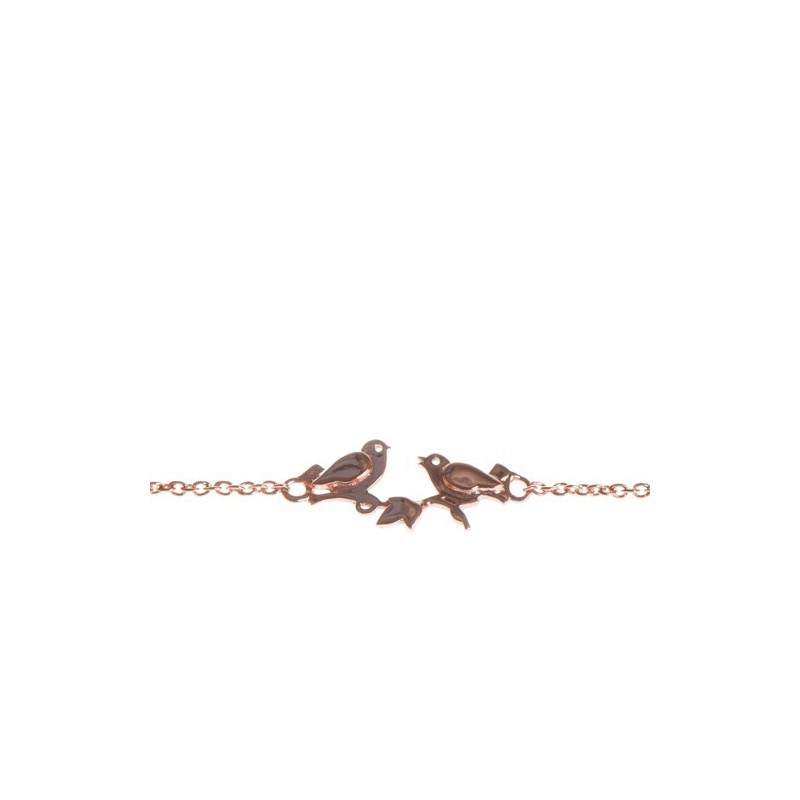  
Gold plated birds bracelet woman
Gold-plated: 18 carats
Pink gold
Size pendant: 18 mm
Total length of bracelet: minimum 15 cm
maximum 19.5 cm
Free shipping - Ships within 24-48 hours
General conditions of Sales
Delivery policy
Returns policy
Gold-plated birds bracelet woman: a bracelet full of romance
Do you want to find a subtle gift full of love without falling into the cliché of little hearts and cupids? The gold-plated birds bracelet woman is undoubtedly the alternative that will suit you ! This delicate bracelet consists of a chain in fine mesh plated in yellow or pink gold (depending on your preference), and two adorable romantic little birds. The latter face each other as if in a love parade. Very easy to wear, it will delight and surprise the woman you give it to. It will be perfectly suitable for sensitive, delicate and passionate women.
Gold and original art'emi creations
Art'emi jewelry is made from quality and exceptional materials but also with love and tenderness.
The gold used for this jewel is 18-carat plated gold. This one is made of 75% pure gold. To obtain a real "gold plated" jewel, a minimum thickness of 3 microns of gold must be deposited on a base metal.
Pink gold, used to make jewelry, is an alloy of fine gold (i. e. yellow gold) with copper. It is possible to add silver to this alloy. It is the combination of gold, copper and silver that gives it its pink shade. In addition, it has many qualities. First of all, it is dyed in the mass, so its colour is not subject to a coating that could wear, peel off or be damaged. In addition, the presence of copper makes the jewelry more scratch-resistant. What more could you ask for?
The gold-plated birds bracelet woman of art'emi, a concentrate of love
Like a beautiful encounter, the purchase of this bracelet will remain a beautiful memory. He will accompany you everywhere, whatever your activities and outfits. Its sentimental and poetic aspect will make it a jewel that will find favor in your eyes. The Brussels jewelry shows us with this woman's bracelet, what love is through this gold-plated bracelet birds in love for women. We also remind you that you can have all our collections delivered to you free of charge anywhere in the world. Finally, it is also possible to have whatever you like engraved on this charming creation, at no extra cost. Finally, we remain at your entire disposal to answer your questions.
Also succumb to the irresistible charm of our splendid bird lovers earrings.
Specific references
UPC

547355396636

EAN-13

5463244182744