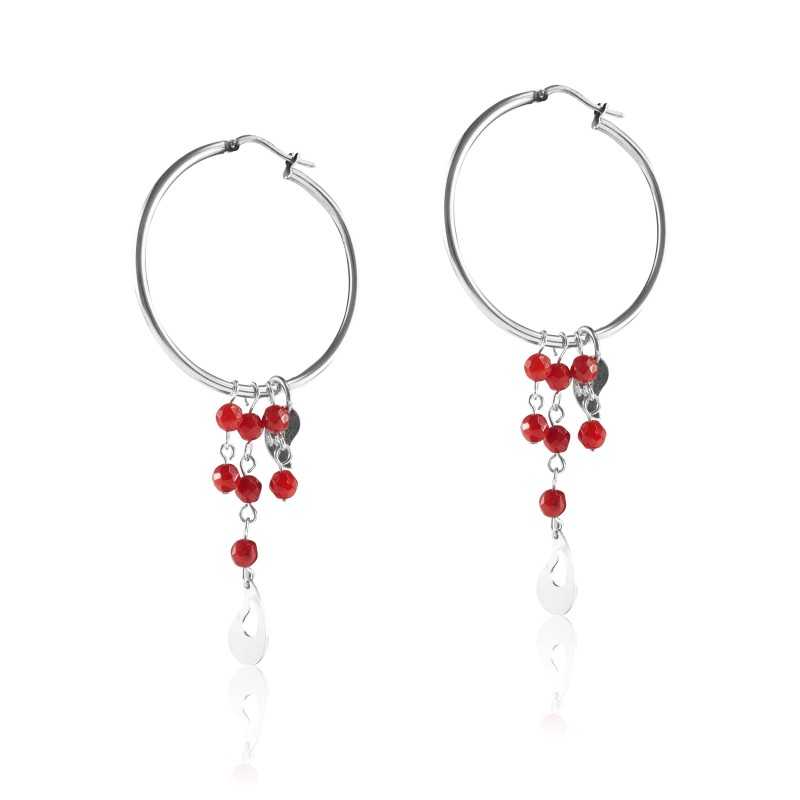  
Red coral hoop earrings
Massive silver 925
Earring length: 8cm
Red Coral
Free shipping - Ships within 24 hours
Privacy - Security Policy
your personal data
Delivery policy
Everything you need to know about delivery
Return policy
Everything you need to know about the return
Red coral hoop earrings: a dazzling pair
Do you want earrings that look like you ? This dazzling pair of red coral and silver hoop earrings will certainly please you. It is elegant and well crafted. Its creator Artémi Vasilakis wanted to give a feeling of movement to this jewel. Fluid, it swings to the rhythm of your movements. Earrings that accompany you with every step. They alternate fine silver meshes with delicate coral pearls, which give it a very special charm.
The quality of'emi' art jewelry
Synonymous with know-how and creativity, art'emi jewelry uses noble materials. The hoop earrings art'emi are made of silver and coral.
Let's talk a little bit about solid silver (or 925 or sterling silver). The latter contains a minimum of 92.5% silver and 7.5% copper. It is not without recall that silver is a very malleable material. The perfect combination of silver and copper makes the earrings strong and resistant. Moreover, because our jewelry is of high quality, it bears the "925" hallmark, recognized by the world of jewelry.
Let's move on to coral now, shall we? Coral is a material secreted by polyps. It forms large banks and marine atolls. It is a mineral substance. Nevertheless, the varieties used in jewellery very often come from noble coral.
Red coral hoop earrings woman by art'emi, an outstanding pair
First, it is the perfect combination of refinement and originality. In addition, the coral tip and its warm color with reddish reflections will give you good colors and revive your summer memories. In addition, you can have all art'emi creations delivered free of charge anywhere in the world. Finally, we remain at your entire disposal to answer your questions about the purchasing and manufacturing process.
These creole earrings coral and silver woman will marry very well with the coral necklace, or the coral bracelet. So, don't hesitate to take a look at our entire coral silver collection. Indeed, it will plunge you into a magical universe where colours, textures, and noble materials.