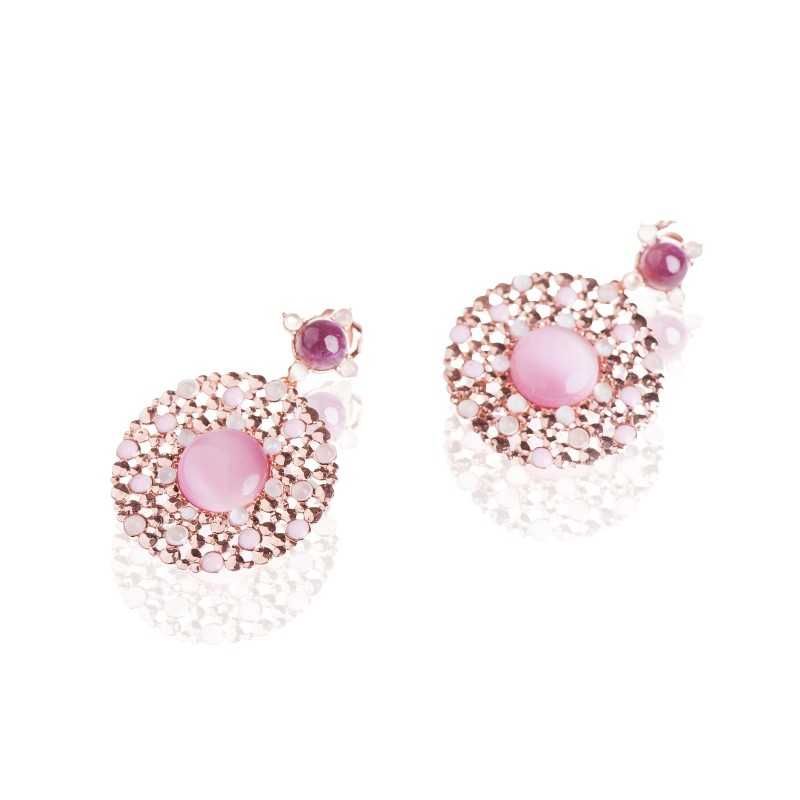  
Round dripstone earrings
18-karat rose gold-plated earrings
Precious Stones: Tourmaline, Cat's Eye, Moonstone
Length: 5 cm
Width: 3.5 cm
Weight: 9.6g
Free shipping - Ships within 24 hours
Privacy - Security Policy
your personal data
Delivery policy
Everything you need to know about delivery
Return policy
Everything you need to know about the return
Round dropstone earrings: an elegant pair
These round dropstone earrings are chic but above all bold. Its light colors take us to a feeling of endless spring. The elegant set will bring this touch of freshness to all your outfits. This jewel will be ideal to accompany you on special occasions and will honour the intrepid woman you are.
Art'emi and exceptional jewelry
Made from unique materials, art'emi jewelry is of a rare quality, for example in vermeil that was made the setting for these beautiful round dropstone earrings for women. This is solid silver that has been plated with gold with a minimum thickness of 3 microns. The gold used for plating is 18-carat gold, consisting of at least 75% pure gold. Moreover, vermeil is a material that does not give you an allergy because it is silver covered with gold, two anallergic metals ! Finally, another advantage of vermeil is that it has an exceptional resistance.
The small semi-precious stones that cover the buckles are cat-eye tourmalines, which comes from the Sinhalese word "turmali", which means "mixed". Tourmaline comes in many colors and combinations that no other gem variety can do. It is a wonderful and fascinating stone ! It protects against harmful energies. She's like a chameleon.
Finally, there is also enamel in this original creation. It allows to add to this jewel a solid and unalterable color in a shape or places that some precious stones could not fill. This also ensures that the design of the jewel is not overloaded.
A pair of round dropstone earrings, a jewel of character
This pair of earrings will be perfect for determined, adventurous and determined women. Its assemblage of semi-precious stones makes it unique and intriguing. In addition, we remind you that you can have all the jewelry delivered anywhere in the world free of charge. Finally, we remain at your entire disposal to answer your questions.
If you have already had the opportunity to discover our 18-carat pink gold plated Drop Stone collection and you have appreciated it, then we present you without further delay the Elegance set. This one is inspired by the Drop Stone collection. She mixes semi-precious stones, geometric shapes and pink colors. Something to delight some of you.