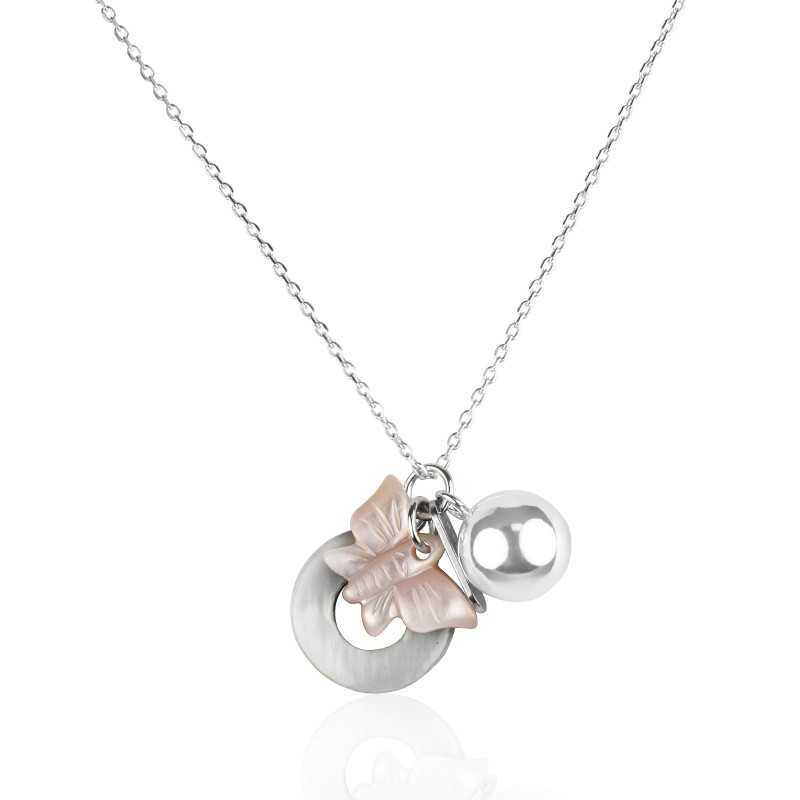  
Mother of pearl butterfly necklace woman
Massive silver 925
Pink mother-of-pearl for butterfly and grey mother-of-pearl for donut
The ball is silver 925
Chain length: 42 cm
Length of pendant: 20 mm
Free shipping - Ships within 24-48 hours
General conditions of Sales
Delivery policy
Returns policy
Butterfly necklace for women : a sparkling creation
The mother-of-pearl butterfly necklace art'emi will style your spring and summer outfits. It is composed of a pink mother-of-pearl butterfly, a grey mother-of-pearl donut and a silver pearl, all mounted on a fine solid silver chain. The three small ornaments of this necklace give it a sparkling and balanced look.
Art'emi, a flawless quality
The Belgian jeweller art'emi offers you quality jewellery made from exceptional materials. Here, the fine chain of the necklace as well as the grey pearl are made from 925 silver (also known as sterling silver, fine silver or silver). This type of silver is composed of 92.5% silver, supplemented by 7.5% copper. It is this alloy of silver and copper that gives the material the strength needed to make this necklace. All our silver jewels have the hallmark "925" as a sign of quality.
Nevertheless, the grey donuts and pink butterfly pendants are made of mother of pearl. Mother of pearl is a biocomposite, synthesized by mollusks throughout their existence by lining the inside of their shells. Moreover, the word "nacre" comes from the Arabic "naqqarah". In English, it is called by the name given to it by the first Queen Elizabeth: mother-of-pearl.
The mother-of-pearl butterfly necklace, a stylish jewel
For a bohemian, romantic and light look, it is the dream jewel. Pleasant to wear, the mother-of-pearl butterfly necklace will be your best ally for your outings, day and night. Moreover, you can have all the artemi creations delivered for free, wherever you are. Finally, the whole team is at your disposal to answer all your questions. So, don't hesitate any longer and fly away to daydream with this charming necklace!
Specific References
EAN13

5476394979294

UPC

547294285923