Looking for a jewelry store near Brugge? Want to find the perfect gift for your baby? A gourmet for your niece's christening? Or a beautiful custom gold necklace for Valentine's Day? Art'emi is the designer who fulfills your desires. High quality and customizable jewelry, let yourself be tempted by its jewelry collection.
Craft creations in your jewelry store in Brugge
Art'emi is a jewelry designer who decided to launch her own brand many years ago now. Passionate, ambitious and meticulous, she has all the qualities required to sublimate your wrist, neck, hand... with her beautiful jewels.
In addition, she creates her creations with high quality materials, guaranteeing you longevity. Jewelry in silver, gold, quartz, vermeil, precious stones, semi-precious, come discover the various collections in your jewelry store in Brugge.
Also, since the jewelry made by Art'emi accompanies you for a long time, the designer wants the jewel you wear to look like you and perfectly reflects your personality.
Discover our wide range of exceptional jewellery
Art'emi's mission is to create jewelry for everyone and for every budget. Indeed, young and old have the right to have high quality and customizable jewelry. That's why she makes jewelry for men, jewelry for women and jewelry for children. Discover now our wide range of jewelry available in your jewelry store in Brugge.
Men's jewelry collection
Treat yourself to fashion accessories such as cufflinks, ticket clips or whale collar. Jewelry, chains, bracelets and other creations are also available for you gentlemen. All opportunities are good for pleasure.
Women's creations
Fall for gorgeous silver earrings or a beautiful custom gold ring... Make your dear and tender happy by offering him a necklace or bracelet with our custom pendants.
Jewelry also for children
Children are also entitled to beautiful customizable jewellery. A children's chain,a necklace,a bracelet or even a gourmet as a birthday present.
So you have a multitude of possible choices among our jewelry collections. Both in terms of the type of jewellery and the materials
Personalization of jewelry in your jewelry store in Brugge
It is since its beginnings that Art'emi has specialized in the personalization of jewelry through engraving. Careful method, handcrafted and all finesse, engraving a jewel is not given to everyone. But Art'emi is an expert in this field. You can be sure you'll be delighted!
In addition, the engraving of your jewel is free in your jewelry store in Brugge and it can be done in several forms. By entering first names, your initials or even a date of birth, a wedding date. Also in the form of a drawing or a symbol. As you have understood, you are free to make your imagination speak.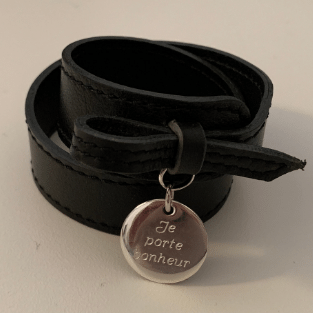 Art'emi: unique and personalized creations
Nowadays, very few jewelry stores are getting into jewelry customization. Indeed, it takes time and requires to be trained in engraving. It is first of all out of passion, but also for this reason that Art'emi customizes your jewelry on demand.
Personalization allows you to own and wear a piece of jewelry that no one else will have. Indeed, thanks to the engraving present, your jewel becomes unique, but not that, it is also personal. An engraved jewel can represent a relationship with a loved one, become the symbol of that relationship or remind you of a past moment that you do not want to forget. Your jewel has value and sentimental value.
It is also a personalized gift that can be offered to our loved ones, a jewel that remains timeless despite the passing years. So why not take the plunge now? Offer a personalized jewel, be it a ring, a bracelet, a necklace, a gourmet... In your jewelry store in Brugge, all our jewelry is customizable.
Jewellery in Brugge: high-quality jewelry in solid silver 925
The longevity of a jewel is not invented. If you want a quality piece of jewellery, Art'emi offers 925 sterling silver creations. This means that your jewel is made up of 92.5% pure silver. It therefore retains its shine as on the first day, does not oxidize and is much more resistant over time.
Brugge Jewellery: Home Delivery
When you place your order, you can choose home delivery. We deliver to Brugge in every part of the city. From Sint-Andries and Sint-Katarina via Sint-Kruis to Sint-Pieters or Sint-Jozef. Also, no worries for the inhabitants of the neighboring towns, because we also travel to your home. OostKamp, Maldegem, Jabbeke or Damme and Zedelgem, your jewelry store in Brugge does not forget anyone.
So don't wait any longer and come and make your selection on our e-shop!