Looking for a jewel for Valentine's Day? A baptism or a Christmas present? Ring, gourmet or necklace, Art'emi offers a wide range of jewelry. Creations for all budgets and occasions. Check out all the fashion accessories available at your jewellery store in Hasselt.
Art'emi, designer of timeless and unique jewelry
Since 2002, Art'emi has been offering unique and artisanal creations. It makes a point of offering jewelry that accompanies you throughout your life. That's why she creates creations that best match your character and personality. Bringing jewelry to life, being close to its customers and meeting their expectations is essential for Art'emi.
It also attaches importance to the use of high quality materials from Europe. Ethical brand, working conditions as well as those of the transport of goods are important to him.
As for jewelry making, Art'emi chooses and makes its jewelry with high quality materials. Jewelry in silver, gold, quartz, vermeil, precious stones and semi-precious find all styles of jewelry in your jewelry store near Hasselt.
Hasselt Jewellery: Jewelry for the whole family
Art'emi designs jewelry for all genres and budgets. On our e-shop, you will find different categories, men's jewelry, women's jewelry and children's jewelry. Find out more about the jewelry available in the jewelry available from Hasselt:
Many types of jewelry are present in the men's category. Indeed, Art'emi does not want to exclude anyone when making his jewelry. You can find cufflinks for your baby, bracelets,many silver chains,several oval or round-shaped pendants and also men's gourmets. All these jewels are of course customizable.
In women's jewelry, rings and earrings are waiting for you to discover them. Also find, as for men, women's necklaces, women's bracelets, women's gourmets... You are spoilt for choice. In addition, the jewels are all unique and can be engraved and customized.
Because children also have the right to wear beautiful jewelry! Give a gourmet for a child to your nephew for his baptism or a gold necklace for children for your daughter's birthday ... It is jewelry that will accompany them even as they grow up.
In addition, there are other choices available to you in your jewelry store near Hasselt, children's pendants, children's chains, children's bracelets... it's according to your preferences!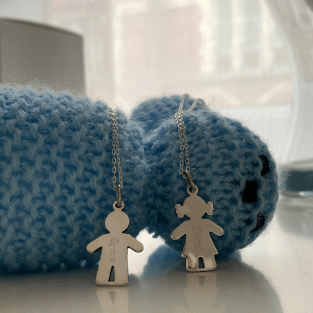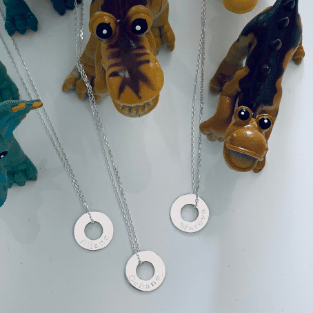 Jewelry customization in your jewelry store delivered to Hasselt by Art'emi
Art'emi wants to invent and produce jewelry that looks like you and reflects your true Self. This is why since the beginning of her activity, she specialized in the engraving of jewelry and therefore the personalization of jewelry.
Meticulous, attentive and passionate, she engraves your future wonders with her hands and for free. There are a multitude of engravings available to make. For example, a gourmet with your child's date of birth, a pendant with your first name and many other options (symbol, drawing...). So come to the site of your jewelry store on delivery to Hasselt and find your custom and original jewelry.
Custom jewelry, an ideal and unique gift
Why choose to have a custom piece of jewellery engraved and offer? First of all, engraving makes your jewel unique and timeless. Who doesn't dream of having something that no one else has?
Then, when we choose to buy a custom piece of jewellery, we can make sure that it represents us and reflects who we are or the person to whom we offer it. It is still an accessory that we wear often or even daily.
Also, a personalized gift has much more value. You usually offer it to someone you know and it also allows you to represent the relationship by a symbol, here, a jewel.
Finally, there are many occasions for which to make this gift. A birthday, the holidays, Mother's Day ... The jewel engraved by a personal detail will make this moment even more unique and striking.
Don't wait any longer, the e-shop at your jewellery store in Hasselt allows you to make your engraving online!
Massive silver creations in your jewelry store near Hasselt
Art'emi makes jewelry mainly in silver 925. This means that they are made up of 92.5% pure silver. So you can be sure that the creations made in the jewelry store in Hasselt are of a high quality. In addition, we guarantee unrivalled longevity and brilliance.
Hasselt Jewellery: Delivery of your order at home and free of charge
Living in Hasselt? Whether you are on the side of Katarina, Hollands Veld, Runkst or Heilig Hart or Kapermolen ... Be happy, your Art'emi jewelry moves to Hasselt and offers you home delivery. And that's not all, we also deliver to nearby cities like Lummen, Zonhoven, Alken, Diepenbeek and also Wellen.
So come and find in your jewelry perfect sterling silver jewelry to add to your jewelry collection.