Are you looking for a jewelry store in Leuven? Would you like to give a personalized gift to a loved one? And you've been thinking about jewelry customization? A ring, a necklace or a bracelet? Find a wide range of customizable jewelry created by Art'emi in our jewelry. High quality jewelry and prints offered, discover more about the brand.
Art'emi: exceptional and bespoke jewellery designer
It's been many years since 2002 that Art'emi has embarked on the beautiful adventure of creating its brand. The creations on offer are all made with exceptional materials. Indeed, Art'emi attaches importance to the quality and longevity of its jewelry. That's why everything she creates, from jewelry to fashion accessories, can accompany you throughout your life.
Also, so you don't get away from it, Art'emi creates the jewel that matches your personality, your character. Always listening to you and close to you, she realizes your perfect jewel.
The jewellery offered in your jewelry store near Leuven is made from different materials, all of high quality. You will find jewels in silver, gold, quartz, vermeil, precious and semi-precious stones... It's up to you to choose the material you prefer to wear.
A wide range of jewellery in your jewelry store in Leuven
One of the advantages in your jewelry store near Leuven is that you find jewelry for the whole family. Jewelry for men, jewelry for women and jewelry for children. It is essential for Art'emi that everyone can be entitled to quality and customizable jewelry. Discover jewels that will make you crack!
In the women's category, you'll find all kinds of jewelry. Necklaces or bracelets and rings,also have fun customizing them. Earrings and pendants are also part of the game. And in addition to your adornment, why not add a keyring as a fashion accessory?
Your jewelry store in Leuven offers a variety of men's jewellery. As for the ladies, we offer bracelets, necklaces... But also find cufflinks, whale collar or even ticket clips. And of course, they are all customizable thanks to engraving! So gentlemen, what are you waiting for?
For the smallest, the category also includes different types of jewelry and accessories. Gourmets, bracelets, necklaces and chains as well as custom pendants to add to your jewelry to make them perfect!
Art'emi customizes your jewelry
It is from the very beginning of its activity that Art'emi specialized in engraving. Indeed, as mentioned above, it makes a point of making and offering you original jewelry that looks like you and corresponds to you.
Professional, passionate and meticulous, she has been engraving your jewelry by hand for many years. But in what form can the engraving be made? Well, you have a choice. It can be a date of birth, first names, initials... So let your imagination and your heart speak for itself.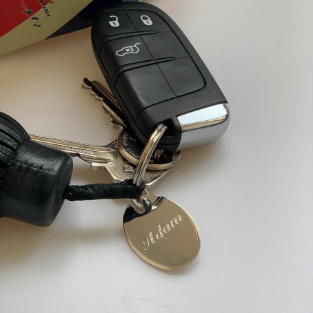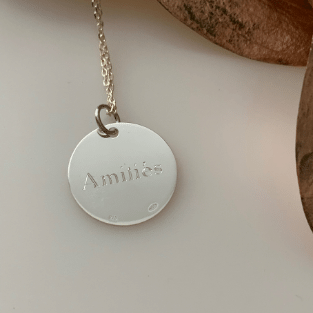 Leuven Jewellery: unique and personalized jewellery
A personalised jewel is the perfect and timeless gift. What could be better than offering a personalized gourmet at a baptism or a gold necklace as a Christmas present? And you don't have to wait for a party or a special moment for little attention. All occasions are good to please or have fun!
In addition, Art'emi makes the engraving of your jewelry for free. Indeed, she wants to be able to adapt her creations for all budgets without forgetting the quality of the materials she uses!
Massive silver creations 925
Art'emi chooses to offer only high quality jewelry. That is why she uses sterling 925 money. Composed of 92.5% pure silver, your jewelry thus retains its shine for many years. Your jewelry store in Leuven guarantees you the strength and longevity of the creations on offer!
Your jewelry store in Leuven delivers to your home
In order to fill you even more, you can receive your order at home in Leuven! We deliver to all parts of the city, from Heverlee to Gasthuisberg via Blauwput or Wilsele and Kareelveld! And of course, if you live in nearby cities, delivery is also available. Whether you are in Rotselaar, Bierbeek, Herent or Oud-Heverlee and Holsbeek.
So don't wait any longer and come and discover our full range of customizable jewelry!